Stephen Curry produced a clutch fourth-quarter display to help the Golden State Warriors edge out the Philadelphia 76ers 120-117 on Saturday night.
Saturday night's scores
Detroit Pistons 129-93 Cleveland Cavaliers
Orlando Magic 117-112 Indiana Pacers
Brooklyn Nets 88-117 Miami Heat
Golden State Warriors 120-117 Philadelphia 76ers
Memphis Grizzlies 111-81 Dallas Mavericks
Oklahoma City Thunder 102-116 San Antonio Spurs
New Orleans Pelicans 120-112 Denver Nuggets
Los Angeles Lakers 109-118 Phoenix Suns
Milwaukee Bucks 111-115 Utah Jazz
Golden State Warriors 120-117 Philadelphia 76ers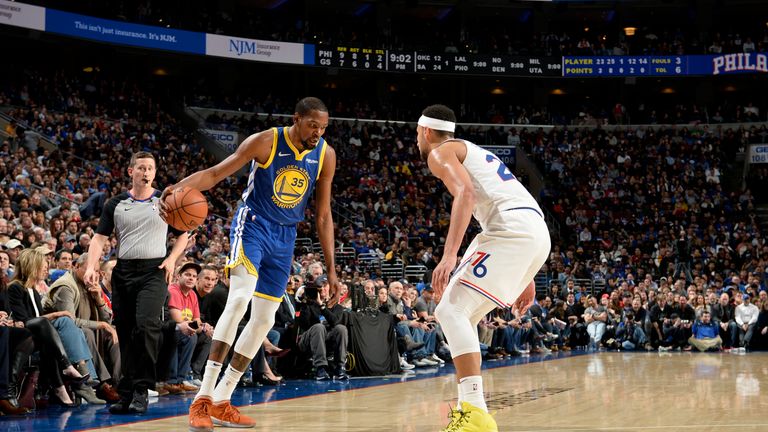 Curry broke a late tie with a jumper and later added two free throws and a layup, enabling the Warriors to snap a two-game losing streak.
Kevin Durant poured in a game-high 34 points, Curry added 28 and DeMarcus Cousins produced his highest-scoring game for Golden State with 25, as the Warriors were without high-scoring guard Klay Thompson because of soreness in his right knee.
Ben Simmons recorded a 25-point, 15-rebound, 11-assist triple-double for the 76ers, who lost for the 11th time in their last 12 meetings against Golden State.
Jimmy Butler scored 21 and Tobias Harris added 20, but both shot poorly from the field as the 76ers played without star Joel Embiid, who missed his fifth straight game with tendinitis in his left knee.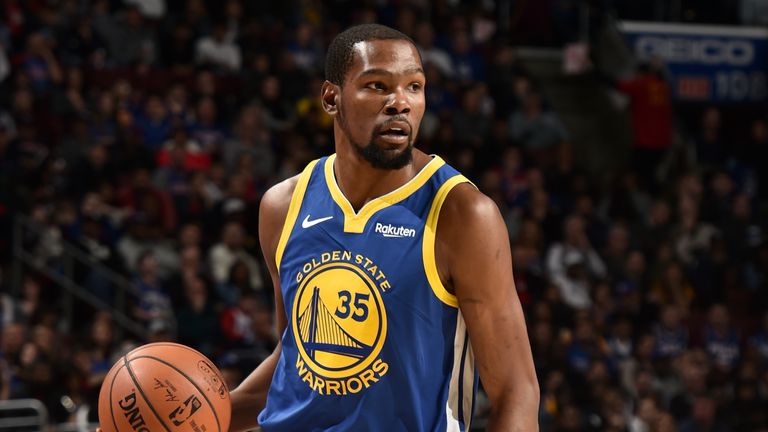 The 76ers were guilty of multiple questionable plays in the final minute, as they threw away the opportunity to force overtime.
Mike Scott inexplicably committed a foul and sent Kevin Durant to the free-throw line as the 76ers trailed by three with 37.1 seconds remaining, then Simmons intentionally missed a foul shot of his own with 10 seconds left.
The Australian was attempting to give his side, who trailed by two at the time, the chance to claim the rebound, but missed the rim, gifting the Warriors possession.
Milwaukee Bucks 111-115 Utah Jazz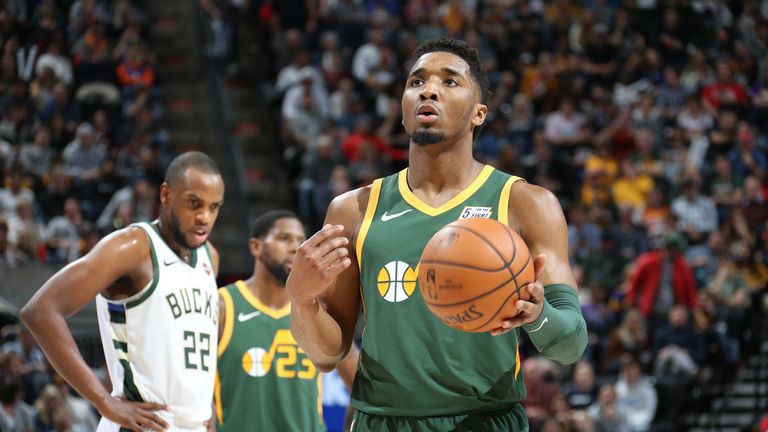 Donovan Mitchell scored a career-high 46 points as the Utah Jazz rallied from a 17-point, fourth-quarter deficit to end the Milwaukee Bucks' seven-game winning streak with a 115-111 victory.
Derrick Favors scored 23 points and matched his career high of 18 rebounds as Utah won their fourth straight game and 18th in the past 24. Joe Ingles added 14 points and eight assists.
Giannis Antetokounmpo recorded 43 points, 14 rebounds and eight assists for the Bucks, who lost for just the third time in the past 22 games.
Khris Middleton added 29 points, nine rebounds and six assists for Milwaukee, who had a 10-game road winning streak snapped.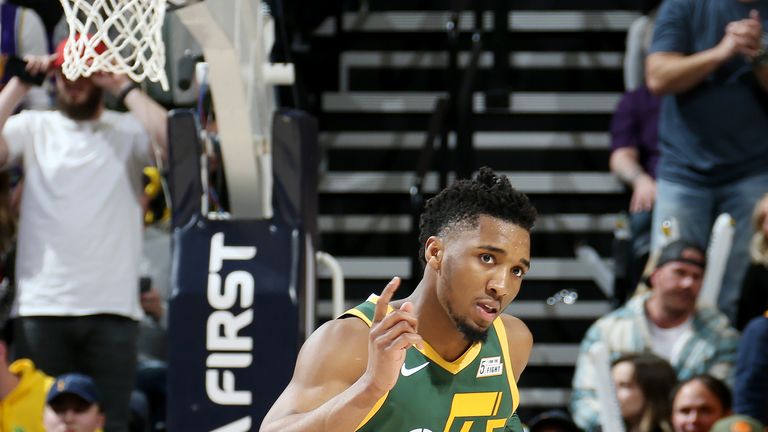 Brook Lopez matched his career high of seven blocked shots and also contributed 16 points and eight rebounds as the Bucks played without starting guards Eric Bledsoe (back) and Malcolm Brogdon (plantar fasciitis).
Tony Snell drained two three-pointers as Milwaukee opened the fourth quarter with 12 straight points to open up a 90-73 lead with 9:39 remaining.
But Utah exploded with a 17-2 run to move within 92-90 on a dunk by Favors with 5:39 left. The Jazz caught the Bucks at 95 on Mitchell's floater with 4:36 remaining.
Ingles scored a layup with 2:01 to play to put Utah ahead for good. Mitchell followed with a three-pointer to make it 106-102 with 1:29 left, and he later drained an even deeper long-range attempt to make it 111-105 with 43.7 seconds to play as Utah closed out the game.
Los Angeles Lakers 109-118 Phoenix Suns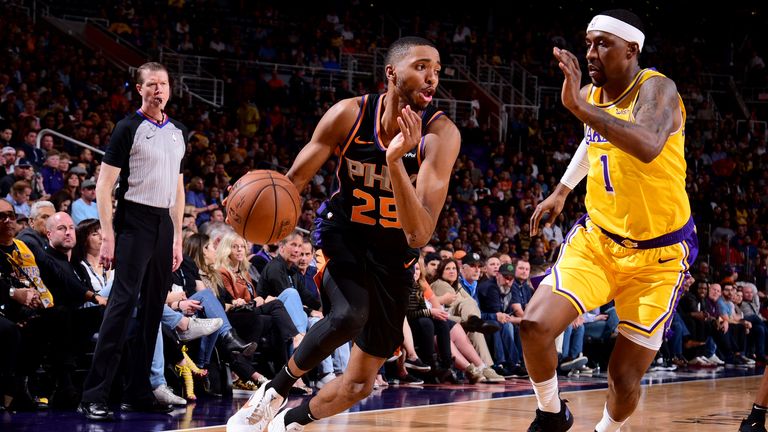 DeAndre Ayton had 26 points and 10 rebounds as the Phoenix Suns defied their league-worst record to further dent the Los Angeles Lakers' playoff hopes with a 118-109 victory on Saturday night.
The Suns avoided their first season sweep in 19 years against the visiting Lakers, who lost for the fourth time in their last five games to fall four-and-a-half games back from the final playoff spot in the Western Conference.
LeBron James had 27 points, nine rebounds and 16 assists for the Lakers, but was unable to overcome Devin Booker, who scored 16 of his 25 points in the second half and Josh Jackson, who scored 16 off the bench for Phoenix, who have won two of three after losing 17 straight.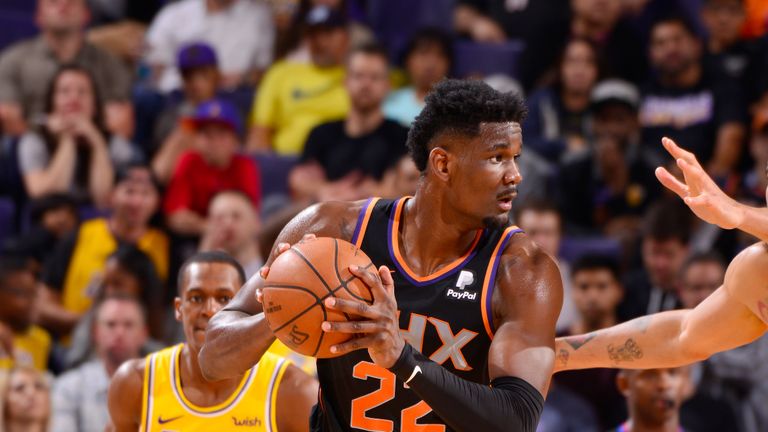 Brandon Ingram scored 25 points and JaVale McGee went 10 of 10 from the field in adding 21 points off the bench for Los Angeles, whose win-loss record now stands at 30-33.
The Suns led by as many as 19 points early in the fourth quarter before the Lakers cut the deficit to five on a three-pointer by Ingram with 3:50 left. James missed two free throws that would have narrowed the deficit to three with 47.4 seconds left.
James made 10 field goals to give him 11,726 for his career, moving him past former Lakers guard Kobe Bryant (11,719) for fifth all-time in the NBA.
New Orleans Pelicans 120-112 Denver Nuggets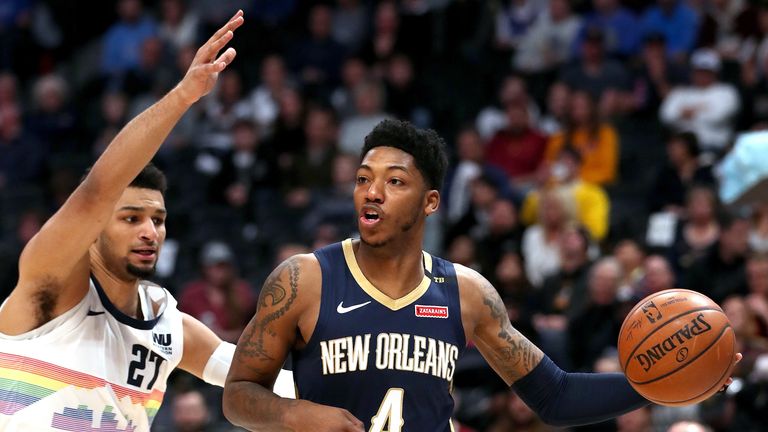 Julius Randle and Jrue Holiday played starring roles as the undermanned New Orleans Pelicans pulled off a surprise 120-112 victory over the high-flying Denver Nuggets.
Randle had 28 points and 10 rebounds, while Holiday scored 29 points as the Pelicans, playing without Anthony Davis (flu) and E'Twaun Moore (rest), won in Denver.
Frank Jackson scored 16 off the bench for New Orleans, who recorded a road-win for the second consecutive night having won in Phoenix on Friday.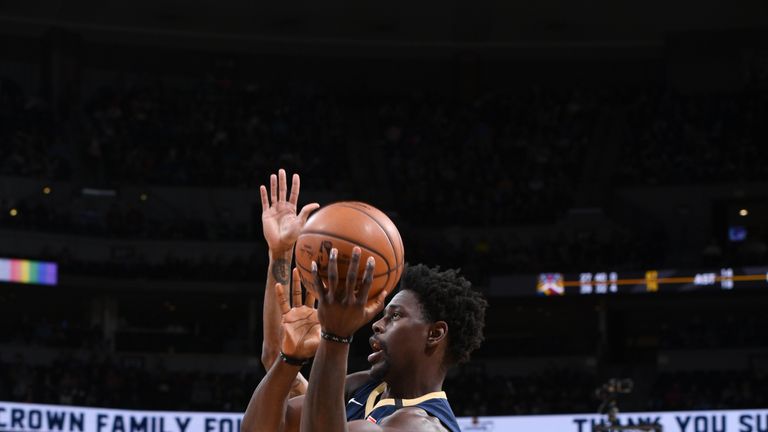 Nikola Jokic had 20 points and nine rebounds while battling foul trouble, and Jamal Murray also scored 20 for Denver.
The Nuggets have lost two straight at home after winning 20 of 21 in Denver and have fallen a game-and-a-half behind the Warriors at the top of the Western Conference.
Oklahoma City Thunder 102-116 San Antonio Spurs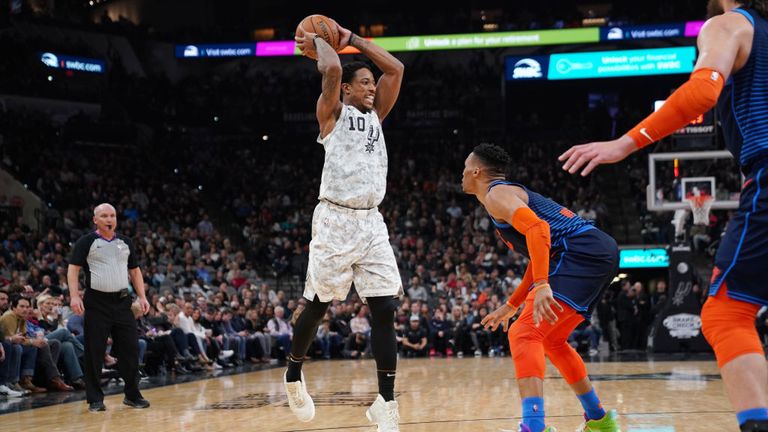 LaMarcus Aldridge scored 27 points, 23 of them in a dominant first half, and grabbed 10 rebounds as the San Antonio Spurs cruised to a 116-102 victory over the Oklahoma City Thunder.
The Spurs won a second consecutive game after a three-game losing streak to make it three victories in their last 10 outings.

Live NBA: Houston @ Boston


The Thunder, who were once again without MVP candidate Paul George, who remains side-lined by shoulder soreness, were led by Russell Westbrook's 19 points and Dennis Schroder's 18,
Oklahoma have now lost four straight and are in danger of slipping down the Western Conference standing, having previously appeared a lock for a top-three playoff seeding.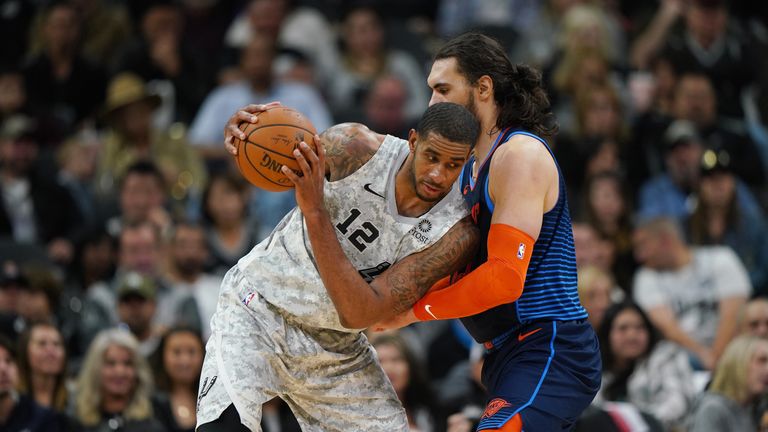 Rudy Gay added 22 points for San Antonio, who improved to 35-29 and remain on course for the playoffs, while DeMar DeRozan hit for 18, Bryn Forbes scored 16 and Derrick White tallied 14.
The Spurs ripped to a 72-63 lead after a defence-challenged first half as Aldridge racked up 23 points on 10-of-14 shooting in 20 minutes of court time. Gay added 14 points for San Antonio in the half while DeRozan and White each had 12 at intermission.
San Antonio's 72 points over the first two quarters was their second-highest scoring half of the year, falling short only of the 74 they put up in the second half against Boston in December.
Orlando Magic 117-112 Indiana Pacers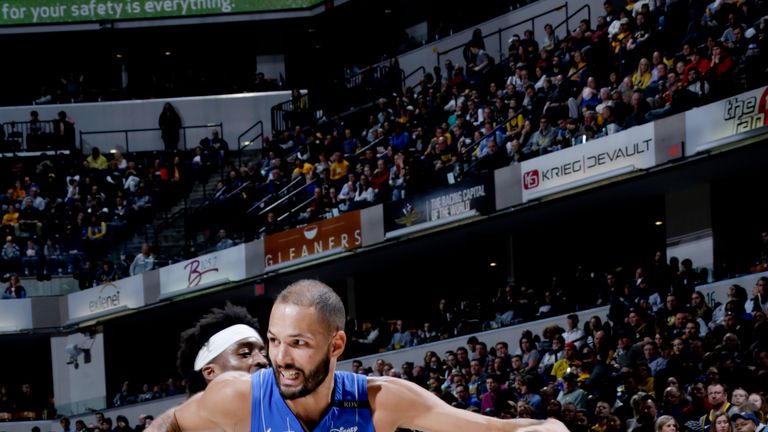 Terrence Ross scored 16 points in the fourth quarter as the Orlando Magic posted a second straight impressive victory by defeating the Indiana Pacers 117-112.
Off the back of a rare victory over the Golden State Warriors on Thursday night, the Magic handed the Pacers just their ninth home defeat of the season.
Ross scored 23 points in all, while Nikola Vucevic had 27 points and eight rebounds for Orlando, as the Magic made it 10 victories in their last 13 games.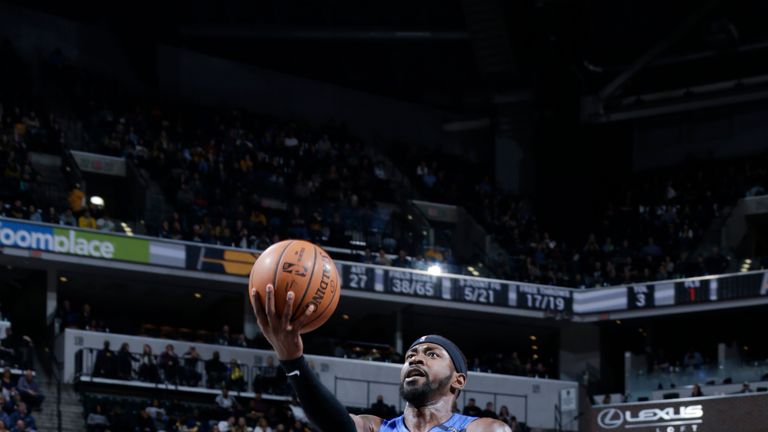 Bojan Bogdanovic led Indiana with 25 points, and Darren Collison added 23 points and 10 assists.
The Magic trailed most of the game until they went on a 15-4 run midway through the fourth quarter to take a 109-102 lead with 3:23 left.
Indiana cut the deficit to four after Collison hit a three-pointer, and Thaddeus Young stole the ball on the ensuing inbound play and dished it to Wesley Matthews for a layup.
The Pacers trailed by two at 114-112 with 29.7 seconds to play, but Evan Fournier drilled a three-point dagger at the other end with 8.4 seconds left and the shot clock winding down.
The Pacers, who remain third in the Eastern Conference, went 9-3 in February but have lost three of their last four.
Brooklyn Nets 88-117 Miami Heat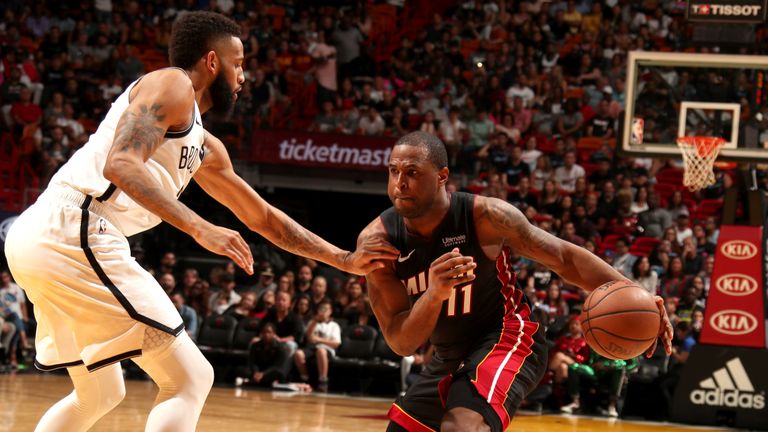 Kelly Olynyk scored 25 points as the Miami Heat produced a dominant third quarter to record a 117-88 victory over the slumping Brooklyn Nets.
The Heat never trailed as the Nets recorded a third straight defeat and lost for the 10th time in their last 15 games.
Olynyk was questionable for the game with a sprained right ankle but scored at least 20 points for the third time in four games as he made nine of his 13 field goal attempts.
A fourth win in their last 14 games leaves Miami one game behind the Magic and Charlotte Hornets, who are tied for the eighth and final Eastern Conference playoff spot, while the Heat also moved within two-and-a-half games of Brooklyn.
Joe Harris led the Nets with 15 points, but D'Angelo Russell was held to 10 points. Brooklyn's other three starters – Treveon Graham, Jarrett Allen and Caris LeVert – combined for just 22 points.
Detroit Pistons 129-93 Cleveland Cavaliers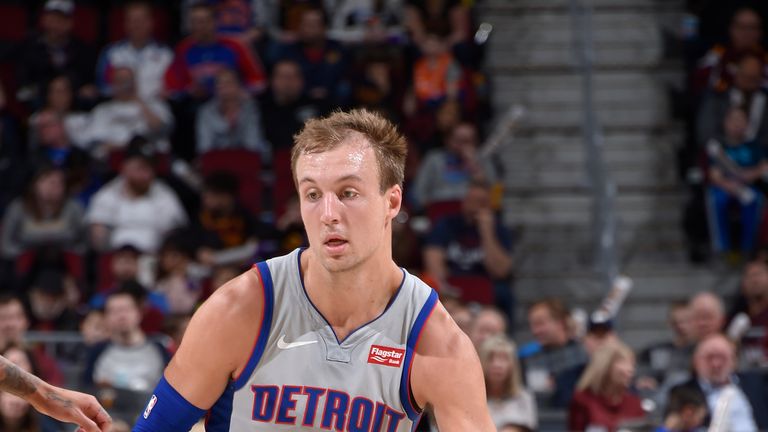 Luke Kennard scored 26 points, including a career-high six three-pointers, as Detroit opened up a 33-point halftime lead on their way to a 129-93 routing of the Cleveland Cavaliers
Kennard, a second-year swingman, was two points shy of his career-high points total, as he went 10-15 from the floor.
Cleveland were led by rookie Collin Sexton, who had 16 points. Jordan Clarkson and Larry Nance Jr. added 11 points apiece, while Cedi Osman and Brandon Knight each scored 10.
Reggie Jackson had 24 points for Detroit, who have won eight of their last 10, including four of five since the All-Star break.
The Cavaliers were missing star forward Kevin Love (rest) and centers Tristan Thompson (foot) and Ante Zizic (concussion).
Memphis Grizzlies 111-81 Dallas Mavericks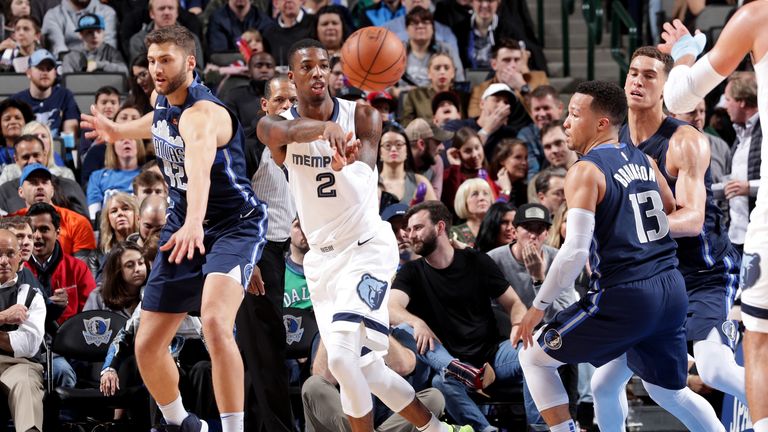 The Memphis Grizzlies combined clamp-down defence and some fine long-range shooting to claim a blowout 111-81 victory over the Dallas Mavericks.
The Grizzlies, playing without injured rookie Jaren Jackson Jr., were led by 20 points from Jonas Valanciunas, who also had 10 rebounds to complete a double-double.
Memphis had solid bench contributions with 15 points from Jevon Carter, 12 points from Joakim Noah on 4-of-7 shooting to go with eight boards and five assists and 12 points from CJ Miles, who went 3-6 from three-point range.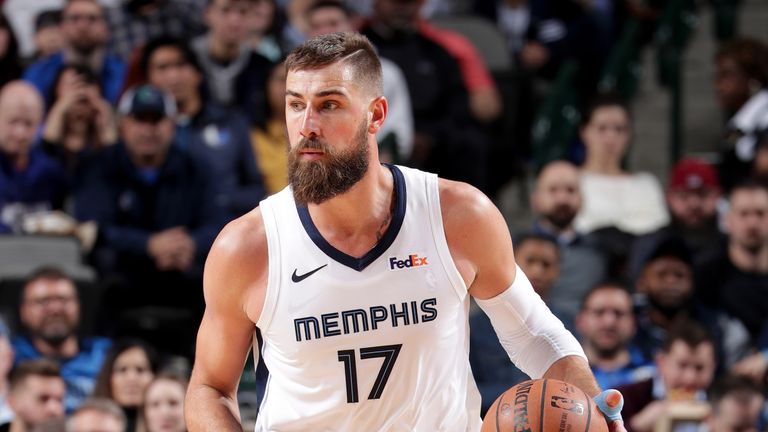 Despite possessing one of the league's more anemic offenses, the Grizzlies shot better than 50 per cent in the first half for a 62-49 lead.
The Mavericks mounted a minor charge to get within seven to open the third quarter, but were thwarted by a solid showing that saw Carter drain two three-pointers with Noah and Chandler Parsons also getting in on the surge.
Rookie Luka Doncic scored a game-high 22 points for the Mavericks as he shot 7-14 from the floor. He could not find the range from beyond the arc, however, missing seven of his eight attempts.
Want to watch the NBA but don't have Sky Sports? Get the Sky Sports Action and Arena pack, click here.