Joel Embiid battled through an apparent back injury to lead the Philadelphia 76ers to an emphatic victory over Eastern Conference rivals the Indiana Pacers.
Thursday night's scores
Philadelphia 76ers 120-96 Indiana Pacers
Phoenix Suns 109-111 Toronto Raptors
Sacramento Kings 95-114 Charlotte Hornets
New York Knicks 100-101 Washington Wizards
Chicago Bulls 105-135 Denver Nuggets
Los Angeles Lakers 138-128 Oklahoma City Thunder (OT)
Philadelphia 76ers 120-96 Indiana Pacers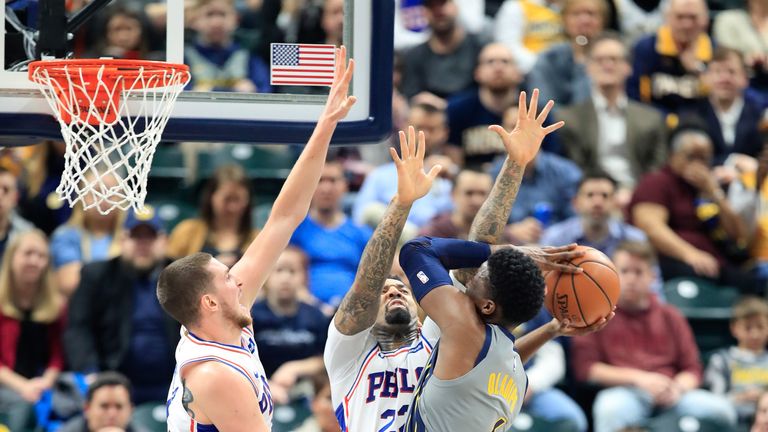 Joel Embiid had 22 points, 13 rebounds and eight assists to lift the visiting Philadelphia 76ers past the Indiana Pacers 120-96 on Thursday night in Indianapolis.
Embiid, who was questionable before the game with a sore lower back, recorded his 38th double-double and his 12th in the last 13 games. Throughout the game, Embiid appeared to be wincing and holding his lower back.
Jimmy Butler scored 27 points and JJ Redick added 20, highlighted by six three-pointers. It was Redick's seventh game this season with at least five triples.
Mike Muscala also contributed 11 while Ben Simmons had 11 points, eight rebounds and eight assists.
The Sixers were 18 of 34 from three-point territory.
Phoenix Suns 109-111 Toronto Raptors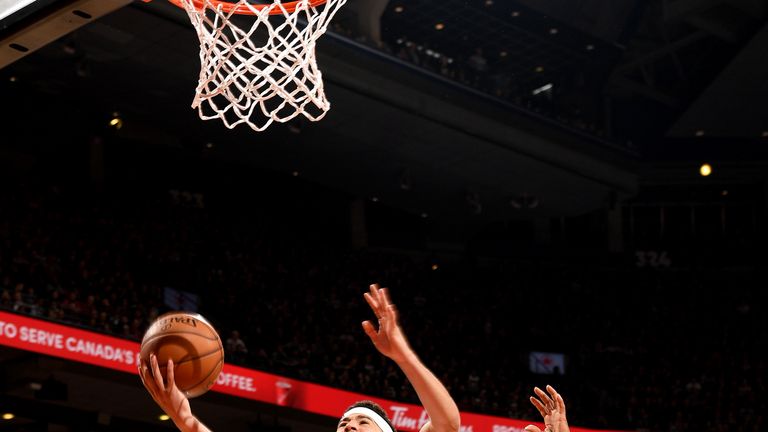 Pascal Siakam made a lay-up at the final buzzer as the Toronto Raptors defeated the visiting Phoenix Suns 111-109. Siakam ended the game with 10 points and 12 rebounds.
Kyle Lowry had 16 points, nine rebounds and eight assists for the Raptors. Serge Ibaka added 22 points, Fred VanVleet had 15, CJ Miles had 13 and Delon Wright had 10.
Devin Booker scored 30 points for the Suns. Deandre Ayton added 15 points and 17 rebounds while Kelly Oubre Jr. scored 18 points and nine rebounds.
The Suns erased a 16-point deficit to lead by one entering the fourth quarter. But the Raptors led 90-87 on a dunk by Chris Boucher with 7:50 to play.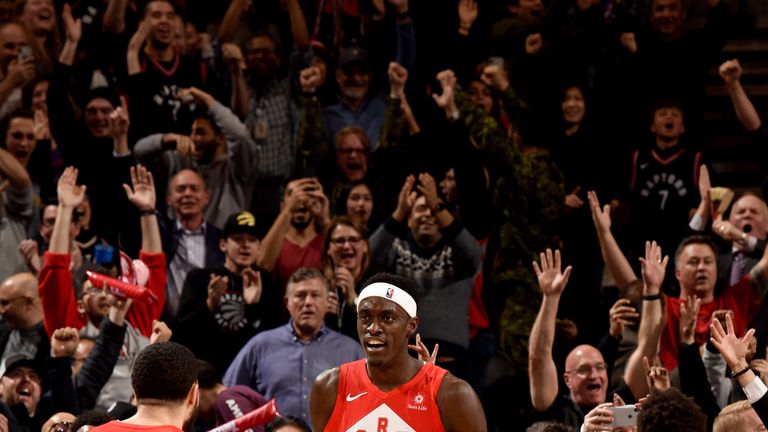 Josh Jackson of the Suns was ejected after his second technical foul of the game. Lowry made the technical foul shot and Boucher made his free throw. The Raptors maintained possession after the flagrant foul and Lowry made a three-pointer for an eight-point lead.
The Suns cut the lead to one on Booker's three-pointer with 3:56 remaining. Booker connected again from beyond the arc to give the Suns a two-point lead with 2:07 remaining.
Siakam made two free throws to tie it with 1:16 to play. Ibaka gave Toronto a two-point lead on a hook shot with 47.9 seconds to go. Mikal Bridges tied the game at 109 on two free throws with 13 seconds left.
Siakam then ended the game with a lay-up at the buzzer.
Sacramento Kings 95-114 Charlotte Hornets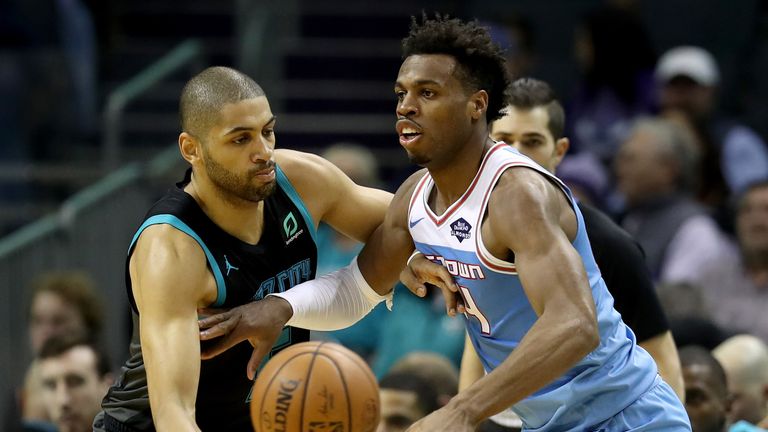 Kemba Walker led a balanced attack with 23 points as the Charlotte Hornets gained revenge on the visiting Sacramento Kings with a 114-95 victory.
The Hornets erupted for 43 points in the second quarter after trailing by as many as 13 early, and they went on to lead by 13 at half-time and by 21 in the second half.
The Kings had rolled to a 104-97 victory when the teams met in Sacramento on Saturday.
Walker also surpassed the 11,000-point barrier for his eight-year career, which is a franchise high.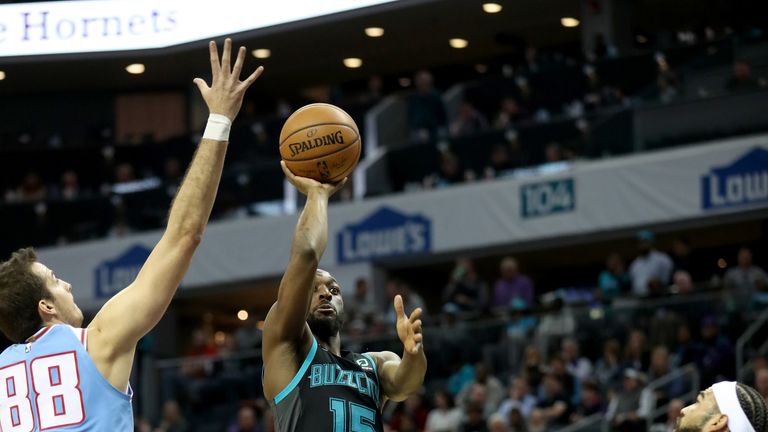 The Hornets also got 15 points each from Miles Bridges and Michael Kidd-Gilchrist, 14 points apiece from Jeremy Lamb and Tony Parker, and 11 points and 16 rebounds from Willy Hernangomez.
Buddy Hield led the Kings with 24 points. Bogdan Bogdanovic scored 17, Marvin Bagley III finished with 13, and De'Aaron Fox had 10.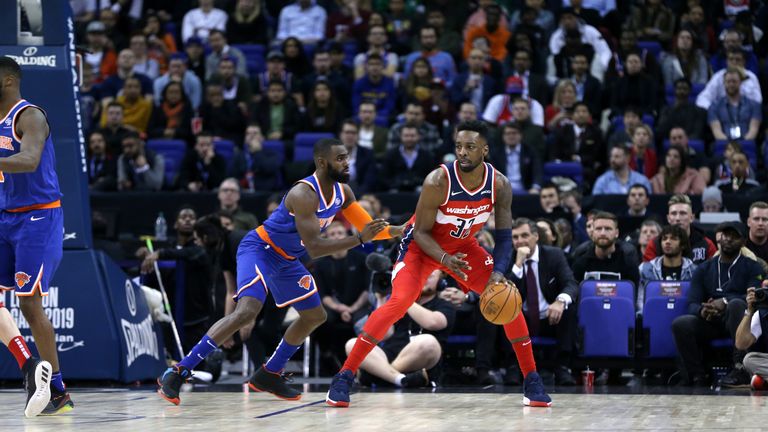 New York's Allonzo Trier was called for goal-tending with less than one second remaining as the Washington Wizards rallied from 16 points down to defeat the Knicks 101-100 at The O2 in London.
Trailing 100-99, the Wizards inbounded with 3.3 seconds left and Thomas Bryant drove the lane. His floater was deflected with less than one second remaining.
The trail official made the goal-tending call, and after a review of several minutes the call stood.
New York inbounded with four-tenths of a second remaining on the clock, but Emmanuel Mudiay's subsequent shot was off the mark.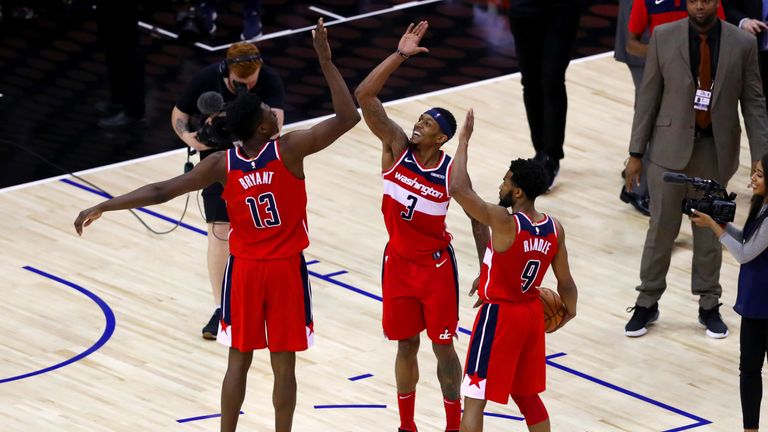 Bradley Beal led the Wizards with 26 points and Otto Porter Jr had 20 points and 11 rebounds.
Mudiay had 25 points on 11 of 18 shooting for the Knicks, who have lost five straight, and Noah Vonleh had 13 points and 10 rebounds.
Chicago Bulls 105-135 Denver Nuggets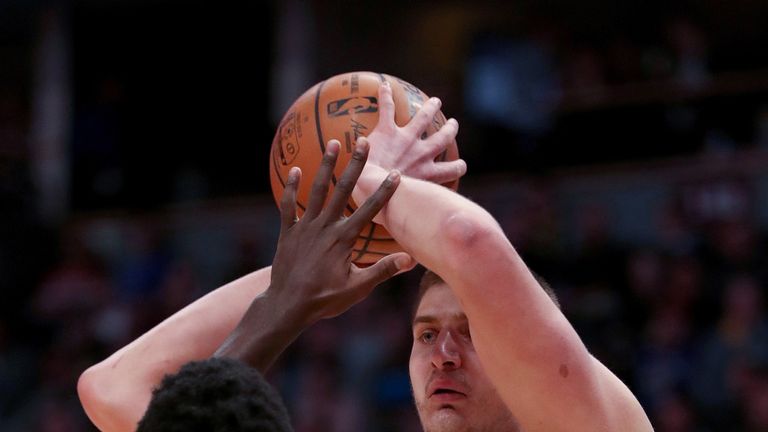 Jamal Murray scored 22 of his 25 points in the third quarter while Nikola Jokic had 18 points, 11 assists and eight rebounds as the host Denver Nuggets routed the Chicago Bulls 135-105.
Paul Millsap finished with 14 points and Gary Harris, returned from missing five games due to a strained left hamstring, also scored 14 off the bench for Denver.
Lauri Markkanen had 27 points and 10 rebounds, Robin Lopez finished with 17 points and Jabari Parker had 15 for Chicago. The Bulls have lost nine in a row and have yet to win in the 2019 calendar year.
The Nuggets started to pull away midway through the second. Jokic went behind the back for a lay-up and a foul, and his 'And 1'free throw gave Denver a 51-42 lead.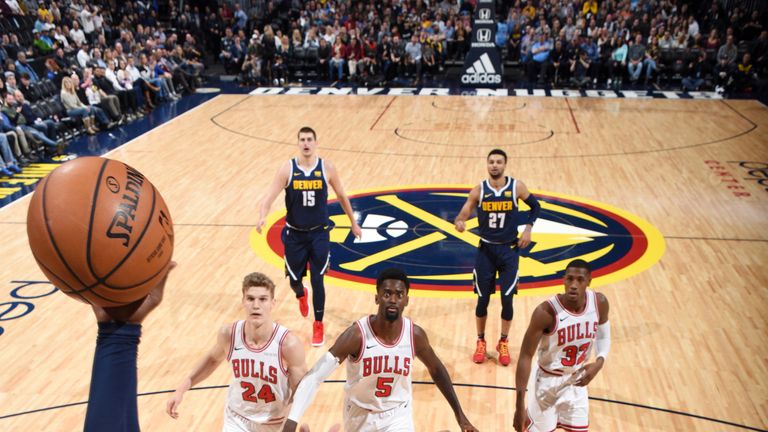 The Nuggets finished the first half with eight straight points, capped by Malik Beasley's three-pointer with three seconds left to make it 61-47 at intermission.
Markkanen opened the third quarter with a three-pointer, but Denver dominated from there. Murray hit a triple, Jokic scored on two consecutive lay-ups, Murray hit another three and Beasley converted a three-point play to make it 74-52.
Murray put it away with another flurry. He scored the next 11 points for Denver and had 16 points in the final 6:57 of the period to push the lead to 103-73 heading into the fourth.
Los Angeles Lakers 138-128 Oklahoma City Thunder (OT)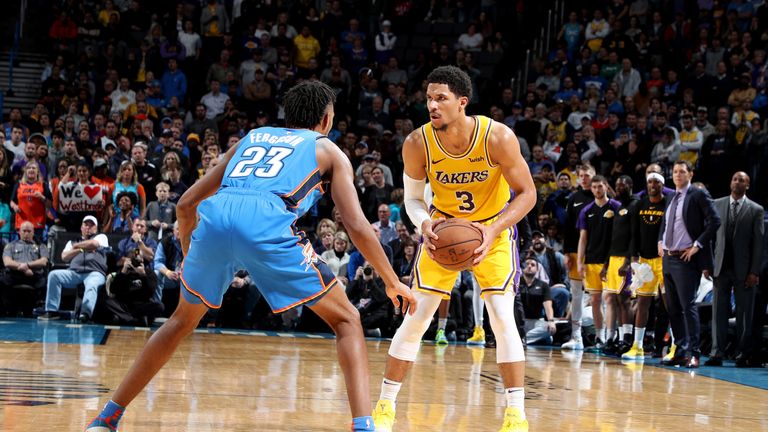 Kyle Kuzma scored 32 points to help the Los Angeles Lakers to a 138-128 overtime win over the Oklahoma City Thunder on the road.
Without LeBron James and Rajon Rondo for the 12th consecutive game, the Lakers relied on Kuzma and Ivica Zubac off the bench, as well as Lonzo Ball.
Kuzma hit seven three-pointers. Zubac scored a career-high 26 points while Ball added 18, including five points in overtime as the Lakers outscored Oklahoma City 16-6.
The Thunder have lost five of their last six games.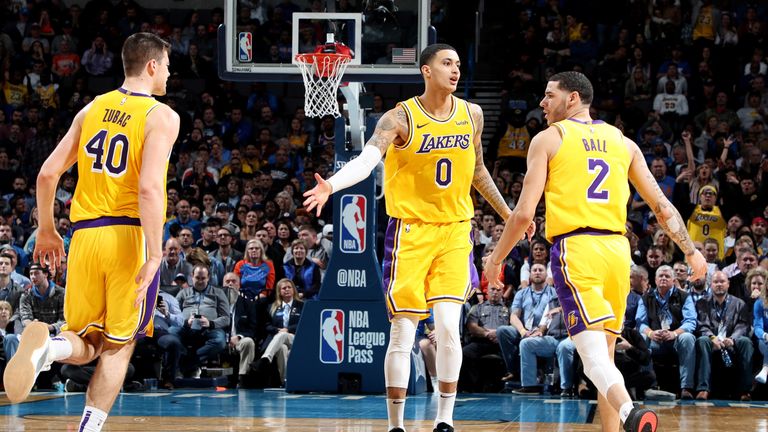 After building a big early lead thanks to the three-pointer, the Thunder faltered from behind the arc in overtime, going 2-for-11 on threes. Oklahoma City did not attempt a field goal inside the arc in overtime.
Paul George led the Thunder with 27 points while Russell Westbrook had 26 points and 13 assists, but was just 7-of-30 from the field.
Want to watch the NFL or NBA on the Sky Sports USA channel but don't have Sky Sports? Get the Sky Sports Action and Arena pack, click here.