Joel Embiid topped 30 points and 10 rebounds in a single game for the 11th time this season as the Philadelphia 76ers beat the Phoenix Suns.
Monday night's results
Phoenix Suns 114-119 Philadelphia 76ers
Boston Celtics 112-117 Charlotte Hornets
Denver Nuggets 98-104 Milwaukee Bucks
San Antonio Spurs 126-140 New Orleans Pelicans
Cleveland Cavaliers 102-113 Detroit Pistons
Utah Jazz 94-121 Indiana Pacers
Los Angeles Clippers 127-119 Atlanta Hawks
Dallas Mavericks 88-98 Memphis Grizzlies
Oklahoma City Thunder 113-117 Sacramento Kings
Phoenix Suns 114-119 Philadelphia 76ers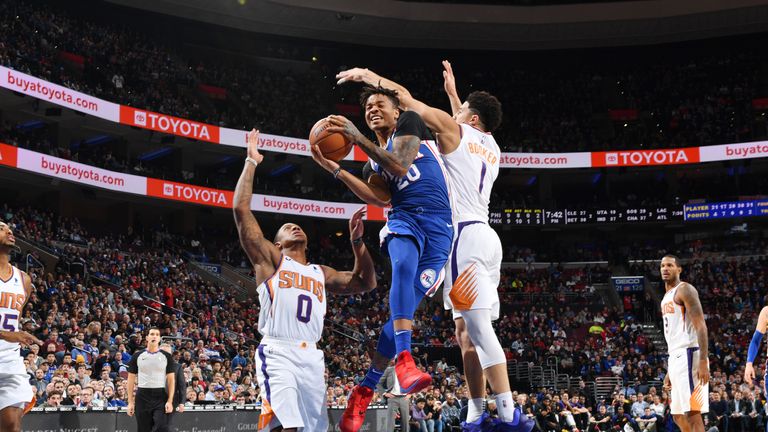 Joel Embiid scored 33 points and grabbed 17 rebounds to lead the Philadelphia 76ers past the visiting Phoenix Suns 119-114 on Monday night.
It was Embiid's 11th game this season with at least 30 points and 10 rebounds.
The Sixers improved to 9-0 at home and secured their 19th straight home win dating back to last season.
Ben Simmons added 19 points, 11 rebounds and nine assists for the Sixers, who have won three in a row. Mike Muscala contributed a season-high 19 points, and JJ Redick had 17 for the Sixers. Jimmy Butler scored 16 points.
Devin Booker led the Suns with 37 points, while TJ Warren added 21. Rookie DeAndre Ayton also had 17, and Mikal Bridges added 13 for the Suns, who fell to 0-7 on the road. Trevor Ariza and Richaun Holmes scored 10 each.
Boston Celtics 112-117 Charlotte Hornets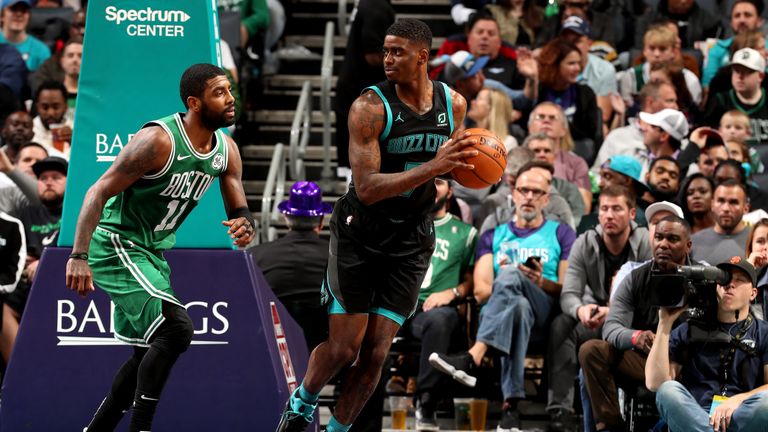 Kemba Walker scored 43 points as the Charlotte Hornets rallied from a 10-point deficit in the fourth quarter to claim a 117-112 victory over the Boston Celtics.
Walker scored 21 of his points in the fourth quarter, single-handedly leading the comeback until Tony Parker hit two clutch baskets in the final two minutes.
Walker's three-pointer with 32.3 seconds left gave the Hornets a six-point lead and all but settled the outcome. In the process, Walker reclaimed his spot as the league's leading scorer.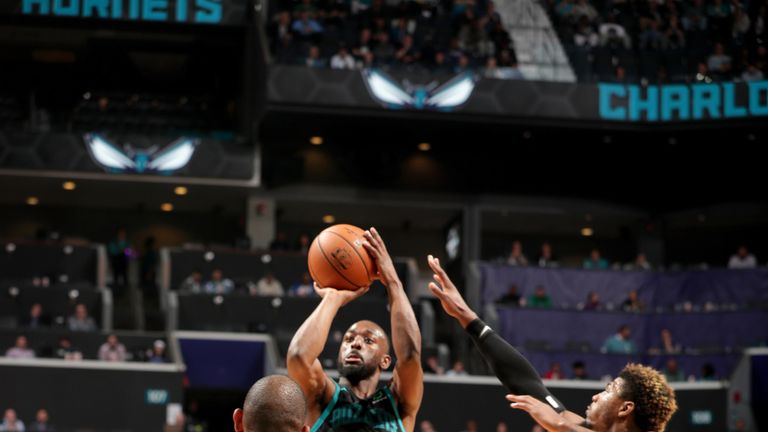 The victory allowed the Hornets (8-8) to snap a two-game losing streak. Boston (9-8) lost its second straight.
The Hornets also got 18 points from Jeremy Lamb and 14 off the bench from Willy Hernangomez.
Kyrie Irving led the Celtics with 27 points and 11 assists. The Celtics also got 18 points from Jayson Tatum, 14 from Marcus Smart, and 10 each from Al Horford, Jaylen Brown and Daniel Theis.
Denver Nuggets 98-104 Milwaukee Bucks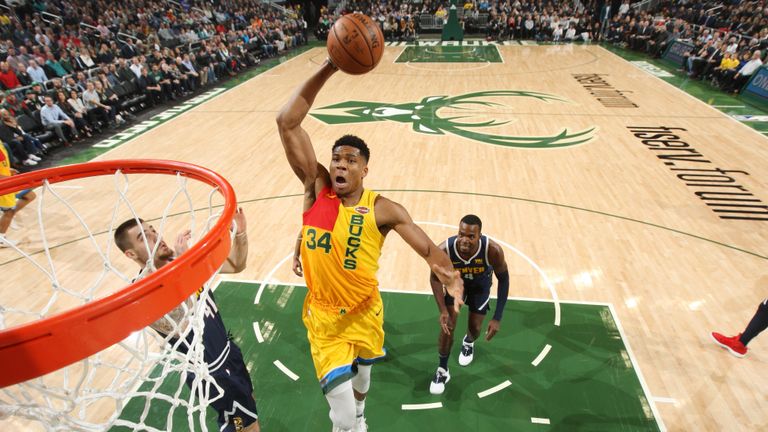 Giannis Antetokounmpo recorded 29 points, 12 rebounds and six assists to lead the host Milwaukee Bucks to a 104-98 victory over the Denver Nuggets on Monday night.
Eric Bledsoe added 23 points on 8-of-10 shooting for the Bucks. Malcolm Brogdon and Khris Middleton added 13 points apiece for Milwaukee, who have won consecutive games for the first time since a 7-0 start.
Nikola Jokic scored 20 points and Jamal Murray had 17 points, eight rebounds and nine assists for the Nuggets. Gary Harris scored 14 points, and Malik Beasley and Monte Morris tallied 12 and 10 respectively off the bench.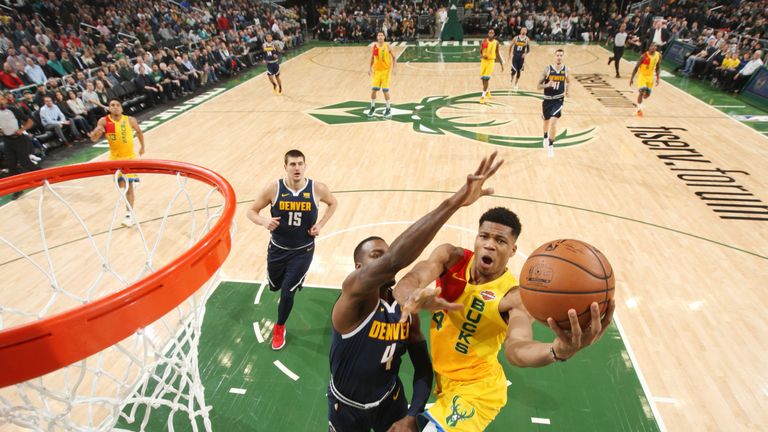 Denver have dropped six of seven games since beginning the season with a 9-1 stretch.
The Nuggets trailed by eight before Harris and Jokic hit back-to-back three-pointers to draw within 100-98 with 48.9 seconds left.
Middleton connected on a three-pointer to make it a five-point margin with 27.6 seconds remaining. Bledsoe split two free throws with 15.9 seconds left to close it out.
San Antonio Spurs 126-140 New Orleans Pelicans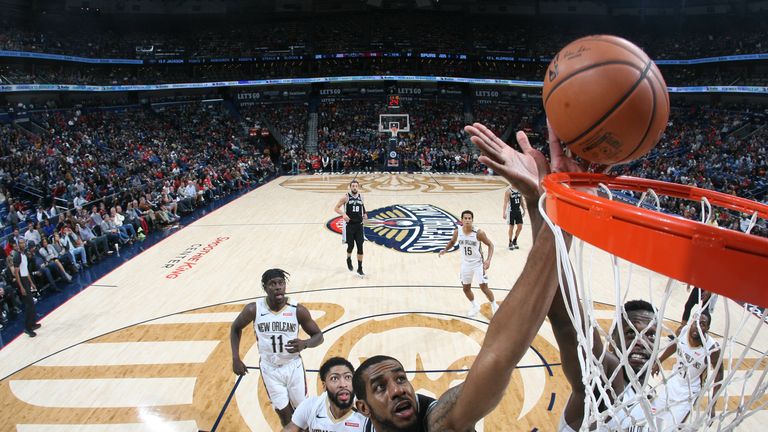 Anthony Davis scored 29 points to lead four New Orleans players with more than 20 points as the host Pelicans routed the San Antonio Spurs 140-126.
Davis, who had scored a total of 83 points in the previous two games, finished the game six points shy of 10,000 points for his seven-year career.
The Pelicans, who improved to 8-1 at home, swept a three-game homestand in which they averaged 131 points. They have won six of their last seven games.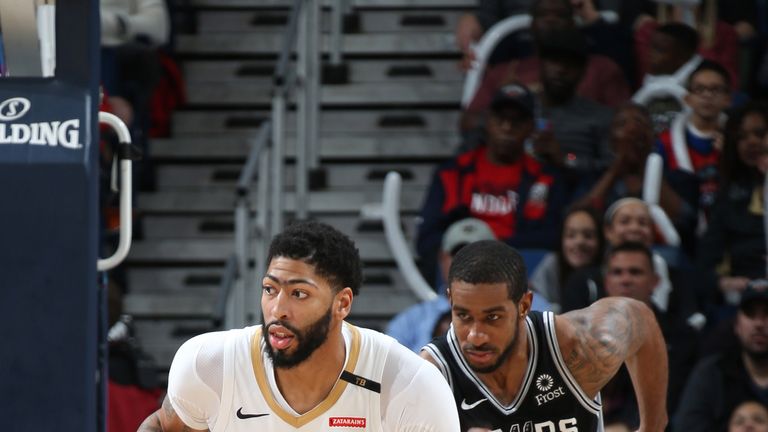 E'Twaun Moore scored 24 points, Julius Randle came off the bench to contribute a triple-double (21 points, 14 rebounds and 10 assists), Jrue Holiday scored 21, Nikola Mirotic had 13 and Frank Jackson came off the bench to score 12.
DeMar DeRozan scored 21 points to lead San Antonio. Bryn Forbes had 20, former Pelican Dante Cunningham scored 19, Rudy Gay had 17 and Marci Belinelli and Jakob Poeltl came off the bench to score 11 each for the Spurs, who lost for the sixth time in eight games.
LaMarcus Aldridge was held to seven points, but chipped in 10 rebounds.
Cleveland Cavaliers 102-113 Detroit Pistons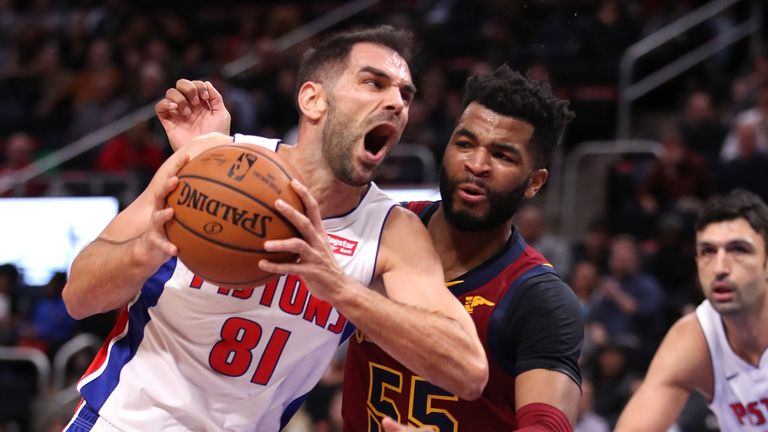 Andre Drummond had 23 points,16 rebounds and three blocks to lift the Detroit Pistons past the visiting Cleveland Cavaliers 113-102.
Blake Griffin had 21 points, 12 rebounds and five assists and Reggie Bullock contributed 21 points and four assists for the Pistons, who led by as much as 30. Reggie Jackson added 13 points and Ish Smith tossed in 11 off the bench.
Both teams were coming off long layoffs. Neither had played since Wednesday and the time off refreshed Detroit, who led by 20 at half-time.
The Cavaliers had six players in double figures, led by rookie Collin Sexton's 18 points and four assists. Jordan Clarkson had 16 points, four rebounds and four assists. Ante Zizic and Rodney Hood chipped in 12 points apiece.
Utah Jazz 94-121 Indiana Pacers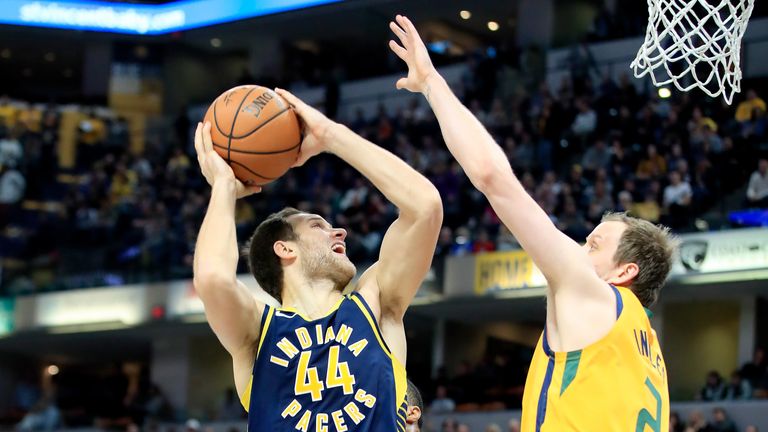 Bojan Bogdanovic scored 21 points and Domantas Sabonis just missed recording a triple-double as Indiana cruised to a 121-94 win over the visiting Utah Jazz.
Sabonis scored 19 points, grabbed nine rebounds and dished out a career nine assists off the bench.
The win was the third straight for the Pacers as Indiana completed a sweep of a three-game homestand that included wins over Miami and Atlanta.
The Pacers were playing without Victor Oladipo, who missed his first game of the season because of a sore right knee. Tyreke Evans got the start and produced eight points, five assists and two steals.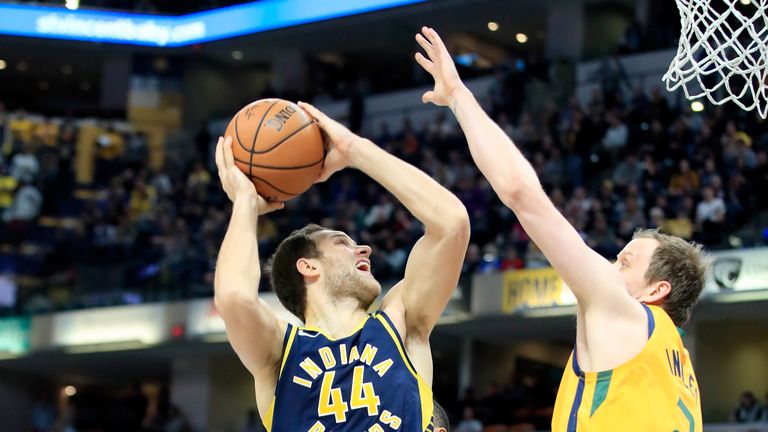 Aaron Holiday, the rookie from UCLA, also made a significant contribution for the Pacers, coming off the bench to score 19 points and grab seven rebounds.
Ricky Rubio led the Jazz with 28 points, six assists and three steals. Jae Crowder had 14 points off the bench and Rudy Gobert recorded a double-double with 12 points and 11 boards.
The Indiana defense smothered Donovan Mitchell, who came in averaging 21.7 points per game, holding him to just seven points on 3 of 8 from the field.
Los Angeles Clippers 127-119 Atlanta Hawks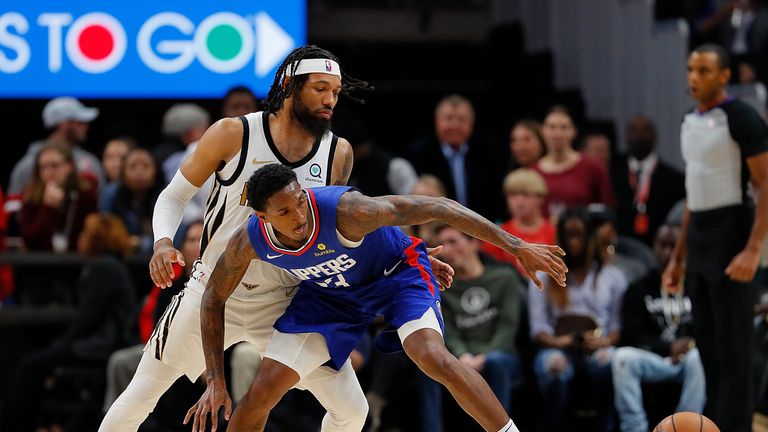 Tobias Harris and Montrezl Harrell combined to score 49 points and lead the visiting Los Angeles Clippers to their fifth straight win, a 127-119 victory over the Atlanta Hawks.
Harris scored 24 points and was 4-for-8 on three-pointers while adding eight rebounds and two blocks. Harrell came off the bench to score 25 points and made a career-best 15 free throws while adding 11 rebounds, four steals and two blocks.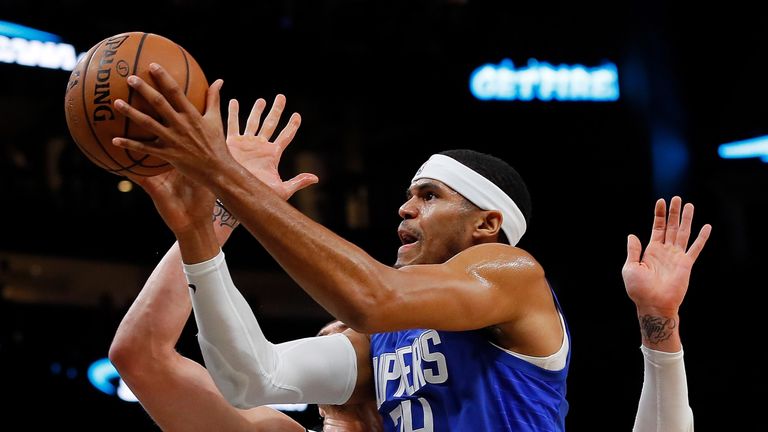 Los Angeles also got 18 points off the bench from former Hawk Mike Scott, who knocked down six three-pointers. Lou Williams had 16 points and 11 assists in a reserve role, finishing one assist off his career high. Shai Gilgeous-Alexander scored 16 points.
Atlanta lost its eighth straight game and for the 12th time in 13 games. The loss came despite 25 points and a career-high 17 assists from rookie Trae Young.
Dallas Mavericks 88-98 Memphis Grizzlies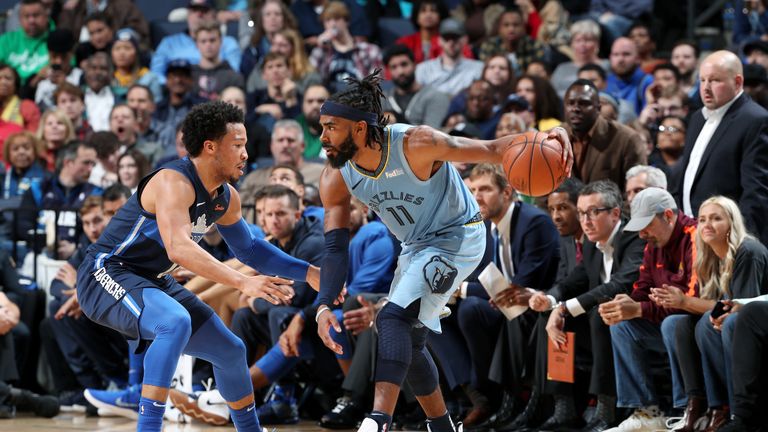 Mike Conley scored a game-high 28 points that included seven three-pointers to help the Memphis Grizzlies beat the visiting Dallas Mavericks 98-88.
The Grizzlies won for the seventh time in eight home games, while Dallas, who entered the first meeting of the season between these Southwest Division riding a season-best four-game win streak, lost for the seventh time in eight road games. The Mavs' 88 points marked a season-low.
Conley's seventh three-pointer with 4:24 to go in the game came on the heels of Garrett Temple's second 3-pointer for a 90-84 lead, the largest margin either team managed since the Grizzlies led 25-19 in the final minute of the first quarter.
Marc Gasol, who finished with 17 points, 15 rebounds, four assists and four blocks, then splashed a jumper to give Memphis the largest lead of the game, 92-84 with 3:01 to go. A Kyle Anderson steal and dunk pushed the Grizzlies' run to 10-0 for a 10-point lead to seal the victory.
Oklahoma City Thunder 113-117 Sacramento Kings
Buddy Hield scored 25 points, hitting three-pointers on three consecutive possessions late in the fourth quarter, to help lift the Sacramento Kings to a 117-113 win over the visiting Oklahoma City Thunder.
Hield's late treys helped the Kings overcome a strong finish from the Thunder's Russell Westbrook, who scored 13 of his game-high 29 points in the fourth quarter.
It was Westbrook's first game since November 5, when he sprained his left ankle late in a win over the New Orleans Pelicans. Westbrook missed six consecutive games, for both the injury and the birth of his twin daughters over the weekend.
Westbrook hit four three-pointers at Sacramento, the first time he has connected on multiple treys in a game this season.
After the Kings let an early 19-point lead slip away in the second half, Sacramento took the lead for good with just more than seven minutes remaining on Bogdan Bogdanovic's three-pointer that broke a 91-91 tie.
With less than five minutes remaining, Hield started his hot streak that ultimately put Sacramento up 107-98 with 3:36 to go.
Bogdanovic scored 16 points and Marvin Bagley Jr had 15 points and 13 points for Sacramento.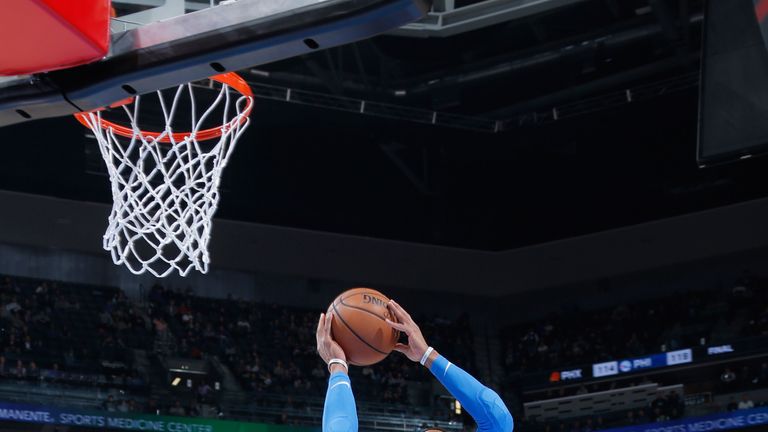 Westbrook also grabbed 13 rebounds and handed out seven assists. Paul George added 27 points and Steven Adams had 11 points and 15 rebounds for Oklahoma City.
It was just the Thunder's second loss in the past 12 games.
Sky Sports is the new home of the NBA in the UK with live coverage throughout the week, including selected live games free to all Sky subscribers via Sky Sports Mix.
And www.skysports.com/nba will be your home for news, reports, video and features throughout the season while you can follow us @SkySportsNBA