Landry Shamet and J.J. Redick will be a highly beneficial pairing in Philadelphia 76ers practice.
As training camp comes to a close, the Philadelphia 76ers are preparing for what should be a successful 2018-19 season. Joel Embiid and Ben Simmons are prepared to take a step forward, while LeBron James' departure opens up the Eastern Conference playoff picture.
Brett Brown has yet to confirm the rotation, but the starting five — at least to start the season — will presumably remain the same. Markelle Fultz, Mike Muscala and Wilson Chandler project as the primary bench pieces, with Amir Johnson and T.J. McConnell controlling the leftover minutes.
Jonah Bolden, Furkan Korkmaz and Landry Shamet are left to battle for scraps. Of that group, Shamet might be the most intriguing talent.
Shamet enters the NBA after two strong seasons at Wichita State. He shot 43.9 and 44.2 percent from deep in his freshman and sophomore years, lighting it up as the Shockers' go-to playmaker. He played point guard, but his off-ball gravity is what will translate best to an NBA setting.
The Sixers have a well-documented need for shooting around Embiid, Simmons and Fultz. Their second unit doesn't have a ton of shooting right now, which could tempt Brown to give Shamet some run.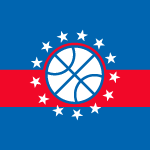 Want your voice heard? Join the The Sixer Sense team!
Before that happens, of course, the rookie will need to prove his value in practice. He has a great mentor at his disposal.
During training camp, video emerged of Shamet and J.J. Redick cycling through different shooting drills. As Redick moved across the court and drained a shot, Shamet would follow. It's the perfect teacher-student connection for a young sharpshooter.
Shamet went on to explain what he's taking away from his time with Redick.
Shamet noted that he's using "little bits and pieces" of how Redick gets open, leveraging his movement to generate open looks despite lackluster athleticism. Redick is one of the best off-ball shooters in league history, and that's something Shamet can undoubtedly learn from.
Coming into his first season, Shamet is already a more dynamic ball handler and playmaker than Redick. He's a natural point guard with a high basketball I.Q., which should yield a smooth transition to the NBA.
If he can add anything close to Redick's effectiveness off the ball, Shamet will quickly work his way into the rotation. Brett Brown puts an emphasis on spacing and movement, as evidenced by Marco Belinelli's prominence in the Sixers' postseason run.
With the Sixers aiming to compete in the Eastern Conference, Shamet will have an uphill battle when it comes to earning minutes. His skill set should give him a shot, though, and Redick's guidance will only help.