DeMar DeRozan scored 36 points to lift the San Antonio Spurs to a 133-120 victory over the Los Angeles Lakers.
Friday night's results
Los Angeles Lakers 120-133 San Antonio Spurs
Toronto Raptors 105-106 Brooklyn Nets (OT)
Philadelphia 76ers 117-111 Detroit Pistons
Denver Nuggets 107-113 Charlotte Hornets
Indiana Pacers 112-90 Orlando Magic
Sacramento Kings 129-110 Cleveland Cavaliers
Oklahoma City Thunder 112-114 Chicago Bulls
Memphis Grizzlies 107-103 New Orleans Pelicans
Miami Heat 115-98 Phoenix Suns
Golden State Warriors 105-95 Milwaukee Bucks
Los Angeles Lakers 120-133 San Antonio Spurs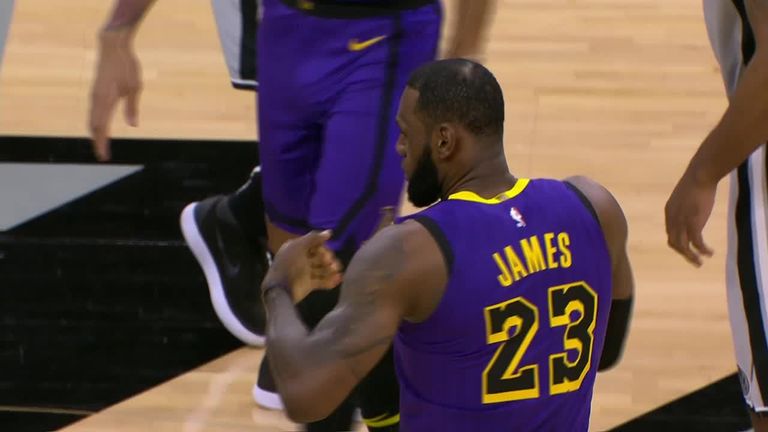 DeMar DeRozan recorded 36 points, nine assists and eight rebounds to lead the San Antonio Spurs to a 133-120 comeback victory over the visiting Los Angeles Lakers on Friday night.
LaMarcus Aldridge and Jakob Poeltl each had 14 points and eight rebounds for the Spurs, who avenged a Wednesday loss to the Lakers. Patty Mills also scored 14 points for San Antonio, and Davis Bertans added 13.
Bryn Forbes and Marco Belinelli contributed 11 points apiece and Rudy Gay added 10 for San Antonio, who outscored Los Angeles 44-21 in the fourth quarter.
LeBron James had 35 points, 11 assists and eight rebounds, and Kyle Kuzma added 27 points and eight rebounds for the Lakers, who had a four-game winning streak halted.
Los Angeles played without small forward Brandon Ingram, who sprained his left ankle in the Wednesday game.
Bertans knocked down four three-pointers as the Spurs made 13 of 31 from three-point range and shot 50.5 per cent overall.
The Lakers shot 46 per cent from the floor and made 11-of-36 from long range.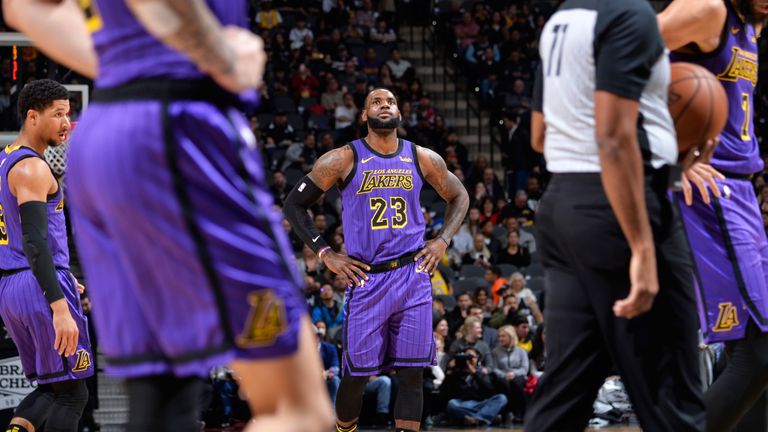 San Antonio trailed for the entire second and third quarters, falling behind by as much as 15 points, before making a late dash.
The Spurs used a 9-0 run – capped by Bertans' three-pointer with 4:48 left – to take a 118-112 lead.
A short time later, DeRozan hit three consecutive shots as San Antonio took a 127-116 advantage with 2:10 remaining.
Another three-pointer by Bertans pushed the lead to 131-118 with 1:34 left, and the Spurs closed it out.
Toronto Raptors 105-106 Brooklyn Nets (OT)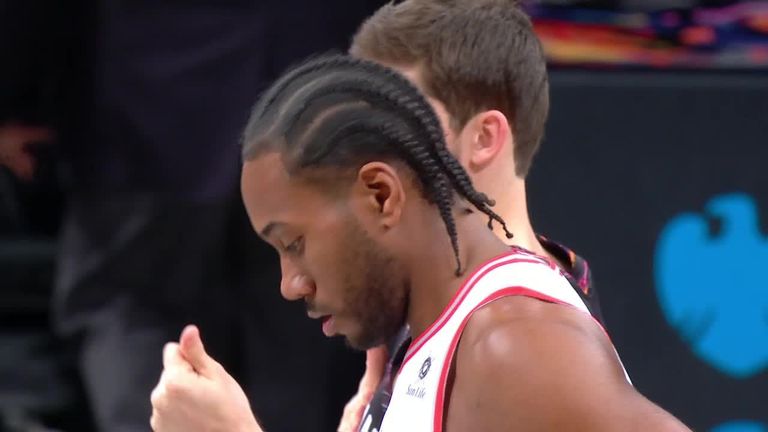 Jarrett Allen hit the go-ahead layup with 64 seconds left in overtime and the host Brooklyn Nets outlasted the Toronto Raptors for 106-105 victory.
Allen helped the Nets end an eight-game home losing streak and eight-game overall skid when he converted a reverse lay-up after receiving a pass from Spencer Dinwiddie.
The Nets then exhaled as Kyle Lowry missed a left-wing three-point attempt with 49 seconds left and Fred VanVleet missed a three-point shot right before the final buzzer.
D'Angelo Russell led the Nets with 29 points and hit three jumpers in overtime after sitting down the stretch in the fourth quarter. He also committed a turnover near the baseline with 24 seconds left, giving Toronto a chance at getting the win.
Dinwiddie added 17 and Allen had 12 and 10 rebounds as the Nets won for just the third time in their last 12 games.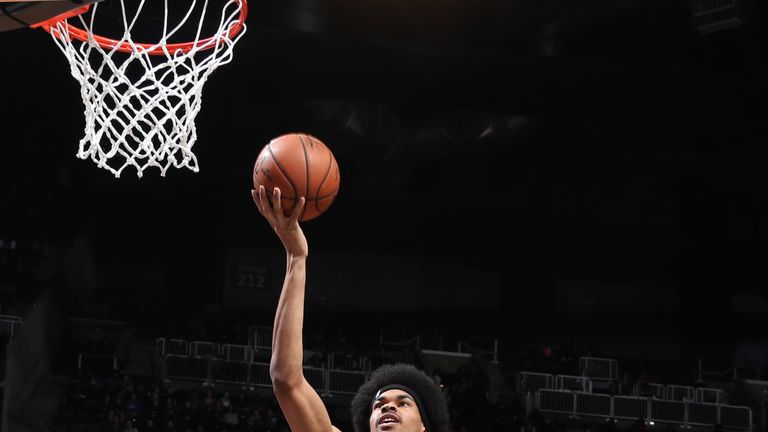 Kawhi Leonard led all scorers with 32 points and blocked Dinwiddie's lay-up with one second left in the fourth quarter to ensure overtime. He scored 13 after the third quarter, including a floater that put Toronto ahead 105-104 with 1:49 left.
But Leonard also missed a pair of mid-range jumpers on Toronto's next two possessions and then deferred to VanVleet for the final shot.
Jonas Valciunas added 24 points while Pascal Siakam contributed 16 as the Raptors shot 39.3 per cent from the field and received a quiet game from Lowry, who handed out 11 assists but scored only three points and missed seven of eight shots.
Philadelphia 76ers 117-111 Detroit Pistons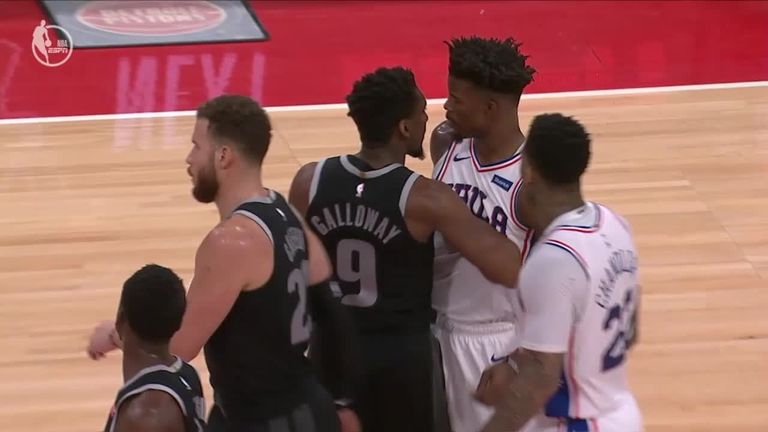 Jimmy Butler poured in 38 points for the second consecutive game as the Philadelphia 76ers overcame the absence of All-Star center Joel Embiid to rally past the host Detroit Pistons 117-111.
Philadelphia's Ben Simmons piled up 18 points, 14 rebounds and six assists while JJ Redick had 18 points and five assists.
Mike Muscala added 18 points and three blocks off the bench for the Sixers, who won for the fifth time in six games.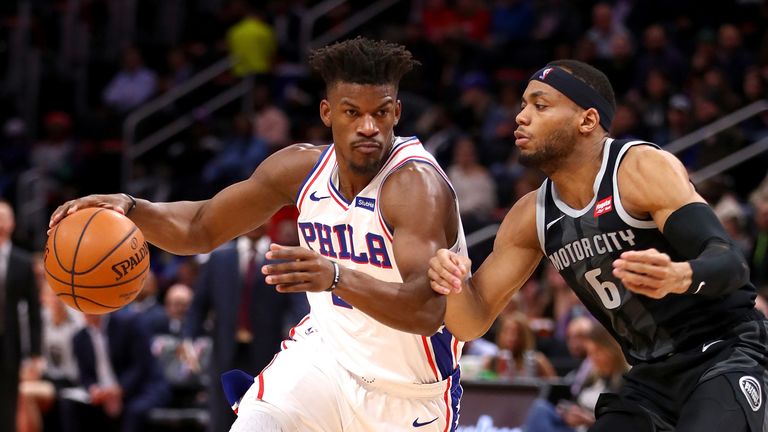 Embiid was rested by Philadelphia coach Brett Brown after a lethargic performance Wednesday in a loss at Toronto.
Blake Griffin racked up 31 points, 12 rebounds and six assists to lead Detroit, who have lost three straight. Andre Drummond contributed 21 points and 10 rebounds, Reggie Jackson chipped in 13 points, and Langston Galloway tossed in 12 off the bench.
Denver Nuggets 107-113 Charlotte Hornets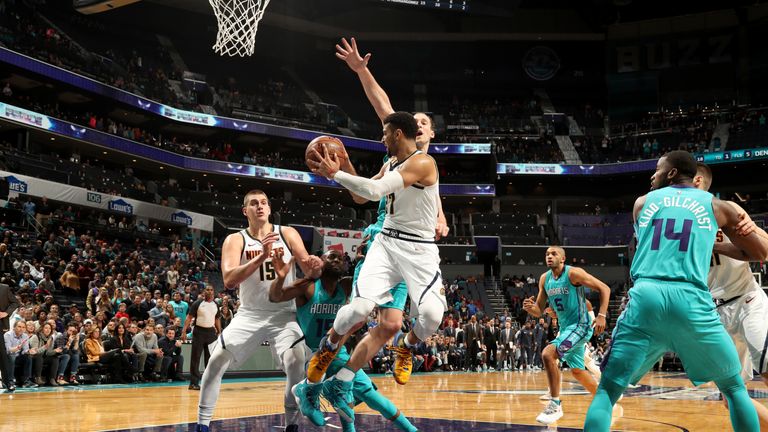 Kemba Walker scored 21 points and hit four free throws in the final 15 seconds as the Charlotte Hornets snapped a three-game losing streak with a 113-107 victory over the visiting Denver Nuggets.
The Hornets exploded for a 40-point second quarter and led by as many as 16 in the first half, then pulled away in the fourth quarter after the Nuggets got as close as one point late in the third period.
In the process, the Hornets snapped the Nuggets' seven-game winning streak.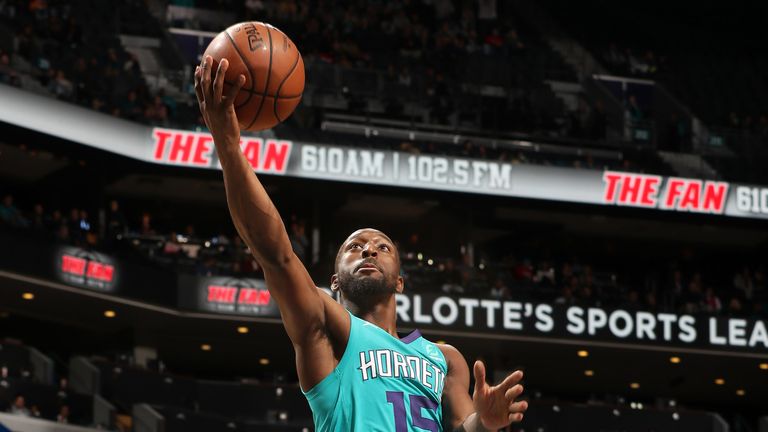 Walker was just 4-of-11 from the field but hit 11 of his 12 free throws, as the Hornets were 34-of-38 collectively from the charity stripe.
The Hornets also got 19 points from Tony Parker, 16 from Malik Monk, 14 out of Marvin Williams and 11 from Frank Kaminsky.
Parker hit two clutch jumpers in the final two minutes to hold the Nuggets at bay.
Jamal Murray led the Nuggets with 20 points. Nikola Jokic, Paul Millsap and Malik Beasley scored 16 each, Juan Hernangomez scored 15, and Monte Morris scored 12.
Indiana Pacers 112-90 Orlando Magic
Bojan Bogdanovic scored 26 points as the visiting Indiana Pacers cruised to an easy 112-90 win over the Orlando Magic.
Cory Joseph scored 15 points off the bench and Thaddeus Young added 14 points and eight rebounds for the Pacers, who have won back-to-back games after dropping two in a row last week.
The win was Indiana's eighth straight against Orlando and the 15th in the last 16 meetings.
Nikola Vucevic had 22 points and 10 rebounds, and Aaron Gordon added 20 points and 14 rebounds for Orlando. The Magic have lost four of their last six games.
Indiana took an early lead when they scored 12 straight points in the first quarter and never trailed in the game again.
Sacramento Kings 129-110 Cleveland Cavaliers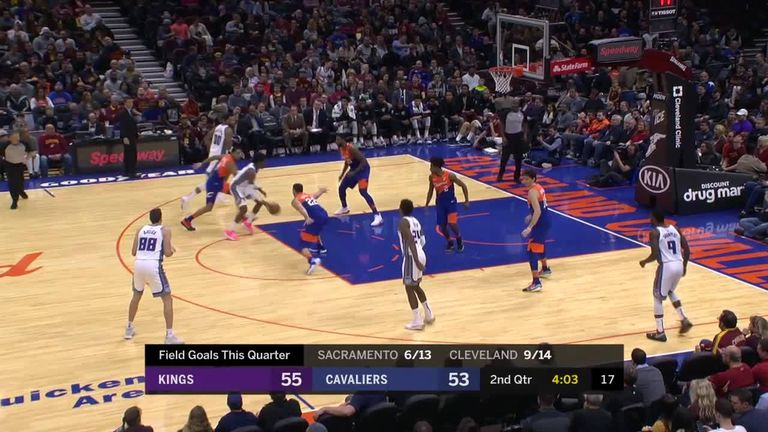 De'Aaron Fox missed his career-high by one point, pouring in 30 points as the Sacramento Kings rolled past the host Cleveland Cavaliers 129-110.
Buddy Hield complemented his backcourt mate with 25 points for the Kings, who won their third straight game.
Jordan Clarkson had 26 points and rookie Collin Sexton 23 for the Cavaliers, who played without George Hill, who was held out as final details were being worked out on a trade to Milwaukee.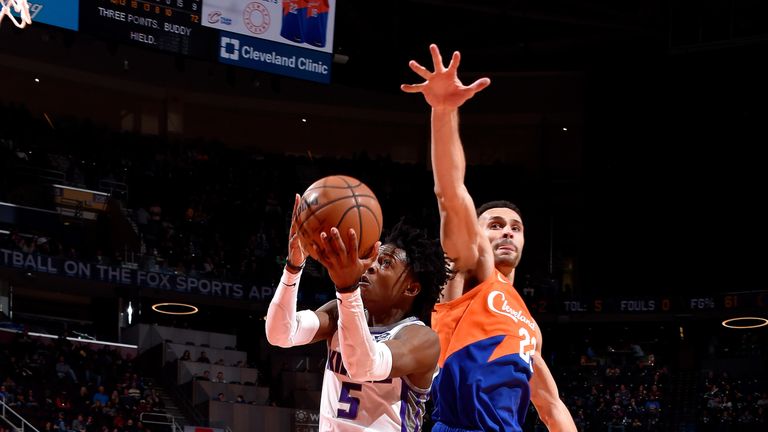 The teams played to a 66-all half-time tie before the Kings gradually pulled away in the second half.
Fox, whose career-high for points came last month against Atlanta, completed his sixth double-double of the season with a game-high 12 assists.
Hield (five) and Fox (four) combined for nine of the Kings' 13 three-pointers.
Marvin Bagley III added 17 points, Bogdan Bogdanovic 15, Nemanja Bjelica 13 and Willie Cauley-Stein 10 for the Kings, who improved to 7-6 on the road.
Oklahoma City Thunder 112-114 Chicago Bulls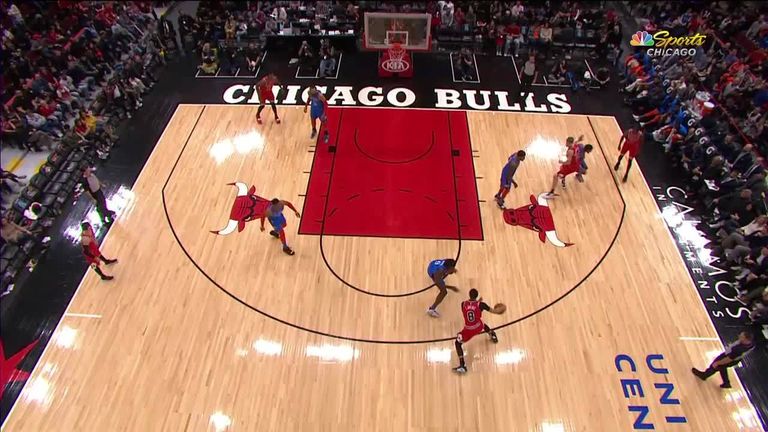 Lauri Markkanen scored 24 points, including a tie-breaking lay-up with 4.9 seconds remaining, to lift the Chicago Bulls to a 114-112 win over the visiting Oklahoma City Thunder.
Zach LaVine finished with a team-high 25 points for the Bulls, and Justin Holiday contributed 20.
Chicago snapped a seven-game losing streak and gave Jim Boylen his first win as a head coach four days after he replaced Fred Hoiberg.
Oklahoma City's Russell Westbrook recorded a triple-double with 24 points, 17 rebounds and 13 assists in 35 minutes. He also committed 10 turnovers. Steven Adams added a double-double with 21 points and 10 rebounds for the Thunder, whose four-game win streak ended.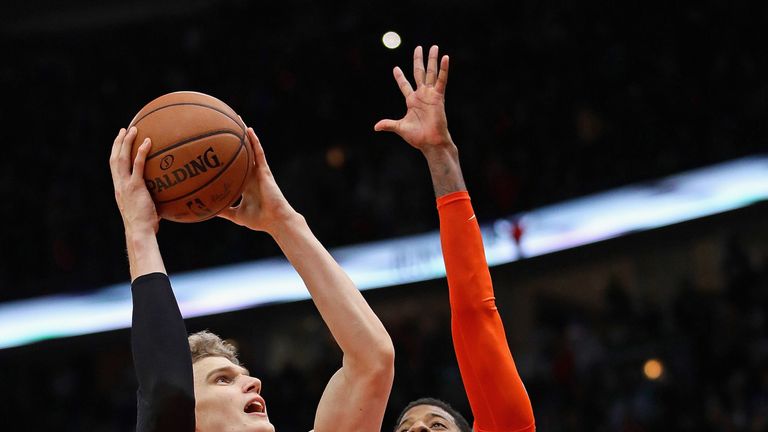 Markkanen pumped his fist after his go-ahead layup. Thunder forward Paul George (19 points) missed on a three-point attempt on the next possession, and Markkanen grabbed the rebound before time expired.
Both teams had a shot at the victory during a hard-fought fourth quarter.
George made a steal near midcourt and pushed a bounce pass to Dennis Schroder, who converted a fastbreak lay-up to put Oklahoma City up 110-109 with 34.1 seconds to go.
However, Holiday hit a three-pointer from the left wing on the next possession as Chicago regained a 112-110 lead with 23.2 seconds remaining.
Westbrook made a driving lay-up that evened the score with 19.2 seconds left before Markkanen finished the scoring.
Memphis Grizzlies 107-103 New Orleans Pelicans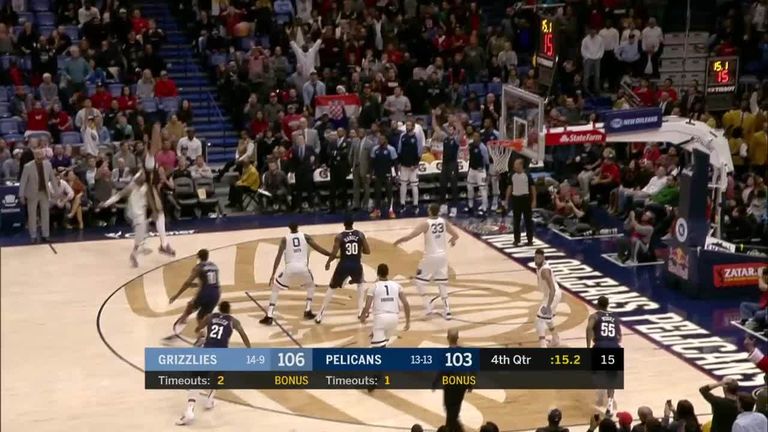 JaMychal Green scored a team-high 24 points to lead a strong bench effort by Memphis as the visiting Grizzlies defeated the New Orleans Pelicans 107-103.
Kyle Anderson added 19 points, Marc Gasol scored 15 and Joakim Noah came off the bench to get 13 as Memphis' reserves outscored their New Orleans counterparts 53-11.
Julius Randle led the Pelicans with 26 points and 13 rebounds, but he missed two important free throws late as New Orleans scored its last field goal with 5:18 remaining.
Anthony Davis added 25 points and 11 rebounds, Jrue Holiday had 20 points and 11 assists and Solomon Hill scored a season-high 14. Nikola Mirotic returned from a two-game absence due to illness and had four points in 20 minutes off the bench.
The Grizzlies won for the third time in their last four games and the Pelicans finished 1-2 on a home-stand against Western Conference playoff contenders, having lost to the Clippers and beaten the Mavericks.
Miami Heat 115-98 Phoenix Suns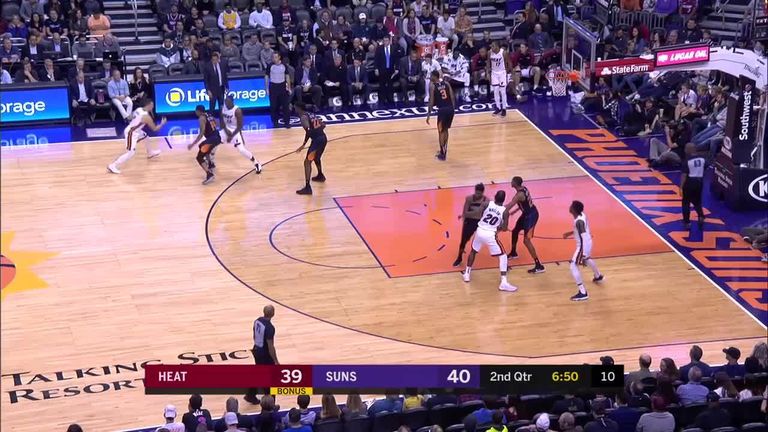 Fill-in starter Bam Adebayo scored 20 of his game-high 22 points in the first half and added 10 rebounds, leading the Miami Heat to a 115-98 win over the host Phoenix Suns.
Miami reserve forward Justise Winslow added 20 points on 7-of-8 shooting, including 4-of-4 on three-pointers.
However, Miami got starting point guard Goran Dragic back after he missed eight games due to an injury to his right knee. Dragic had 11 points and a game-high 10 assists in 21 minutes as Miami started a six-game road trip.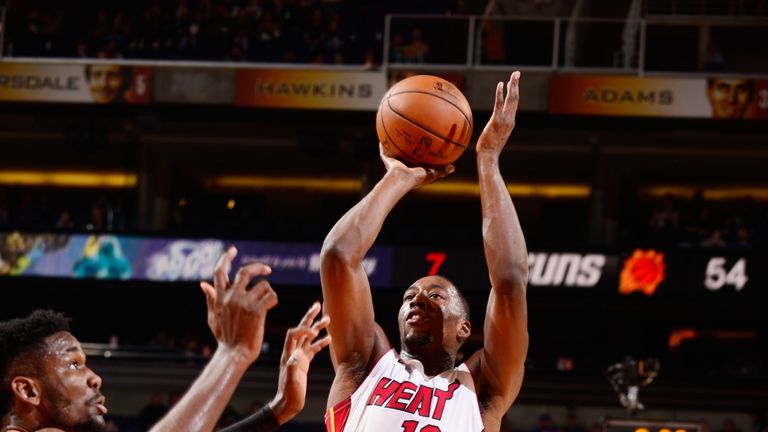 Suns point guard De'Anthony Melton, a 20-year-old rookie and a 2018 second-round pick, made his first career start, posting 12 points and four assists.
Phoenix started two other rookies: center Deandre Ayton, the first overall pick in the 2018 draft; and Mikal Bridges, the 10th overall pick. Ayton had 16 points and a game-high 11 rebounds. Bridges had 12 points.
The Suns, Who have the worst record in the NBA at 4-22, lost their eighth straight game, the longest active skid in the league.
Golden State Warriors 105-95 Milwaukee Bucks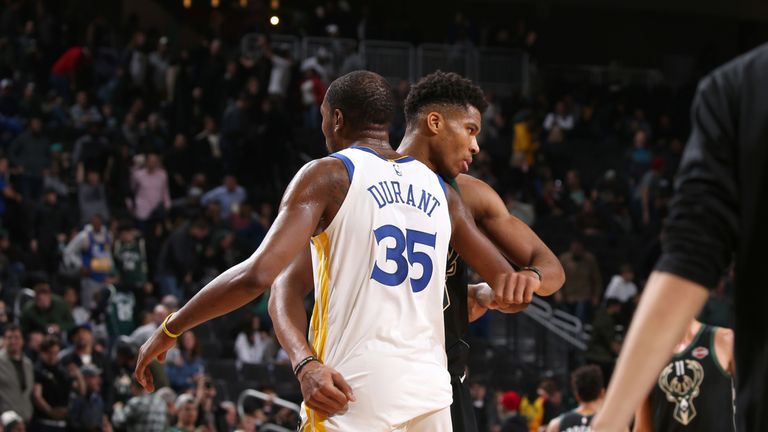 The Golden State Warriors earned a measure of revenge against the host Milwaukee Bucks on Friday night, reversing an earlier blowout loss with a 105-95 victory.
On a night when Kevin Durant was held to 11 points on 3-for-14 shooting, the Warriors turned to their depth to complete a 3-2 trip with a third straight win.
Stephen Curry and Klay Thompson shared game-high scoring honours for Golden State with 20 points apiece, each hitting four three-pointers.
Jonas Jerebko (four), Andre Iguodala (three) and Alfonzo McKinnie (three) combined for 10 more three-pointers as the Warriors drained 19 shots from beyond the arc and outscored the Bucks 57-21 on threes.
In a game dominated by long-range shooting, the Warriors connected on 19-for-46 on three-pointers; the Bucks 7-for-39.
Giannis Antetokounmpo had 22 points and a game-high 15 rebounds for the Bucks, who won 134-111 at Golden State last month.
Sky Sports is the new home of the NBA in the UK with live coverage throughout the week, including selected live games free to all Sky subscribers via Sky Sports Mix.
And www.skysports.com/nba will be your home for news, reports, video and features throughout the season while you can follow us @SkySportsNBA