Philadelphia 76ers rookie guard Shake Milton has been making the most of his opportunities in Delaware.
During the buildup to the 2018 NBA Draft, there was not too much buzz around lanky SMU junior guard Shake Milton. He wound up falling to the 54th slot, where he was traded from the Dallas Mavericks to the Philadelphia 76ers. He suffered a stress fracture prior to 2018 Summer League, so the lack of discussion surrounding Milton heading into the season made sense, given the lack of exposure.
However, when looking at Milton's production during his final collegiate season and this year's G-League campaign, there is reason to feel optimistic about his future on the team. With Ben Simmons handling most of the ball handling duties, the Sixers would prefer to pair him with a George Hill-type player: a combo guard who can spot up from beyond the arc and also act as a secondary ball handler and playmaker, while supplying serviceable defense on the perimeter. Milton definitely fits that mold.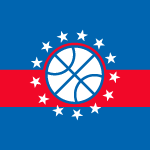 Want your voice heard? Join the The Sixer Sense team!
Per NBA.com, Milton placed in the 98th percentile in both points per spot-up possession (1.339) and points per pick-and-roll possessions (.708) during his final season in college. Defensively, he ranked in the 76th percentile in points allowed per spot-up possession (.806). Milton used his excellent shooting stroke (42.7 percent from three in college on over five attempts per game, per Sports Reference) and his great size (standing at 6-foot-5 with a 7-foot wingspan) do prove himself as a do-it-all point guard in college.
Milton signed a two-way contract with the Sixers in the summer, and has spent the majority of his time with the Delaware Blue Coats, while getting some run with the Sixers sporadically. With Delaware this season, Milton has averaged 24.2 points, 5.1 rebounds, and 3.7 assists per game, and has shot 47.5 percent from the field, per Basketball Reference. He has shown a lot of offensive versatility with the Blue Coats, displaying a solid three-point shot, shot creating abilities and playmaking chops.
He will likely continue to get opportunities with Delaware, since his contract only allows him 45 days with the pro club before they are forced to cut him or guarantee his contract. Expect Milton to continue to use these opportunities to his advantage, and to prove himself worthy of a spot on the Sixers roster as they go forward.