Two Eastern Conference heavyweights will clash when the Philadelphia 76ers visit the Toronto Raptors, live on Sky Sports Arena in the early hours on Thursday morning.

Live NBA: Philadelphia @ Toronto


The Raptors (20-5) own the NBA's best record and have won eight of their last 10 games, including a memorable 131-128 overtime victory over defending champions the Golden State Warriors.
Toronto boast a deep roster stacked with two-way players – led by Kawhi Leonard, Kyle Lowry and the blossoming Pascal Siakam – and that balance between offense and defense is reflected in their numbers.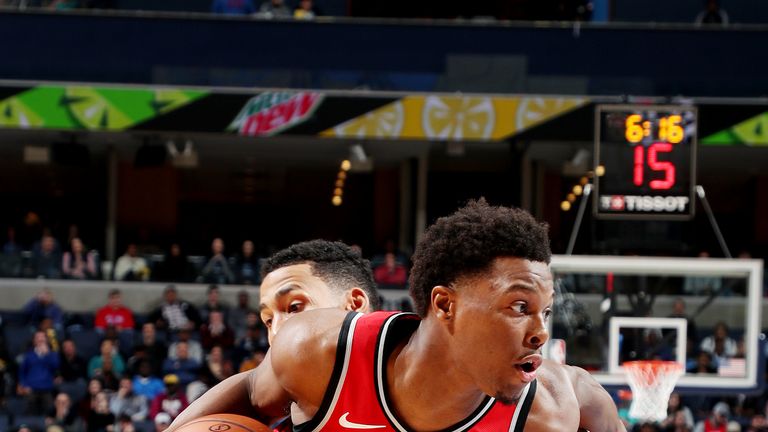 The Raptors are one of three teams (the Milwaukee Bucks and the Denver Nuggets are the others) to rank in the league's top 10 for both offensive (avg points scored per 100 possessions) and defensive (avg points allowed per 100 possessions) rating.
Philadelphia (17-8) look certain to be one of the Raptors' closest challengers for Eastern Conference supremacy this season.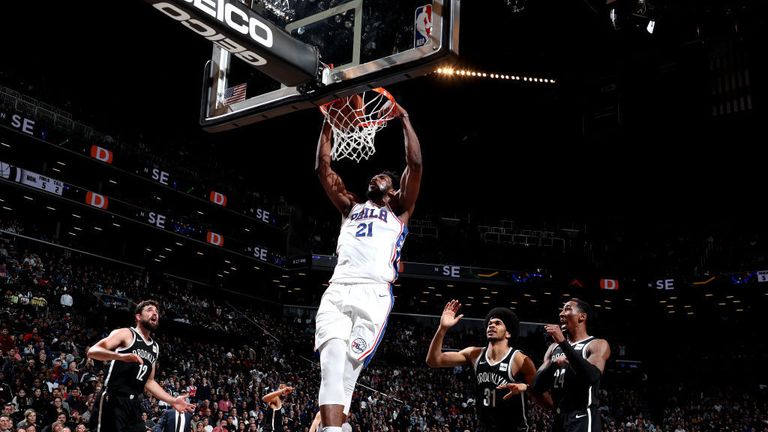 They currently sit third in the East standings, have won four straight and, in Joel Embiid, have a star able to dominate games and lead them to a deep playoff run.
The charismatic Cameroonian center is producing an MVP-calibre season, averaging 27.0 points, 13.4 rebounds and 2.0 blocks per game. He's also shooting threes and getting to the free throw line at a staggering rate to boot.
Key Battle: Kawhi Leonard vs Jimmy Butler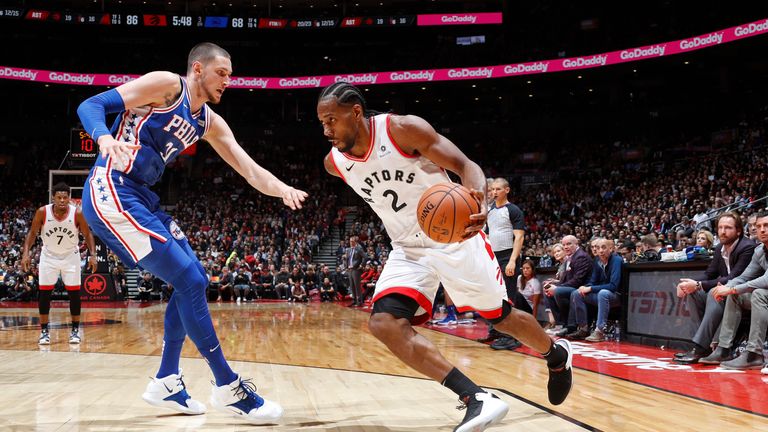 This duel promises to be fierce! Leonard and Butler both score at will and play consistently-tough defense. They also share a dogged competitive spirit that ensures sparks will fly if they end up having to guard one another.
Leonard, who joined the Raptors via trade from the San Antonio Spurs, is quietly putting together an MVP-level season of his own, averaging 25.6 points per game. He poured in 31 points and shut down Philly point-forward Ben Simmons when the Raptors hosted the Sixers in October, helping Toronto to a 129-112 win.
That victory came before the 76ers' acquisition of Butler who, having moved to Philadelphia from the Minnesota Timberwolves via trade, has provided the Sixers with much-needed late-game shooting and playmaking ability that has eased the burden on Embiid and Simmons.
Last time out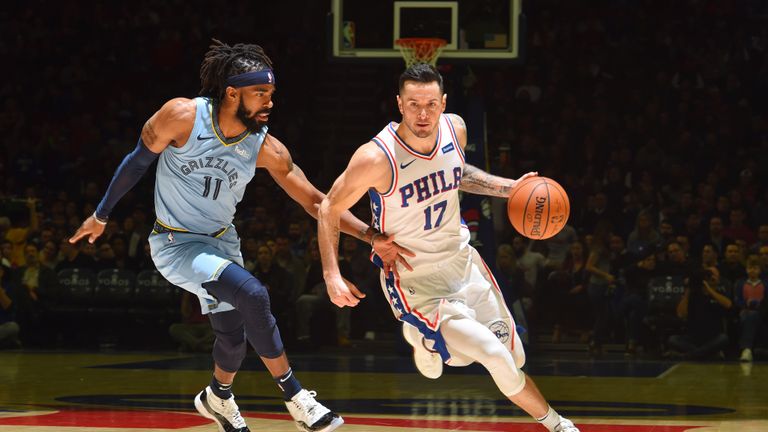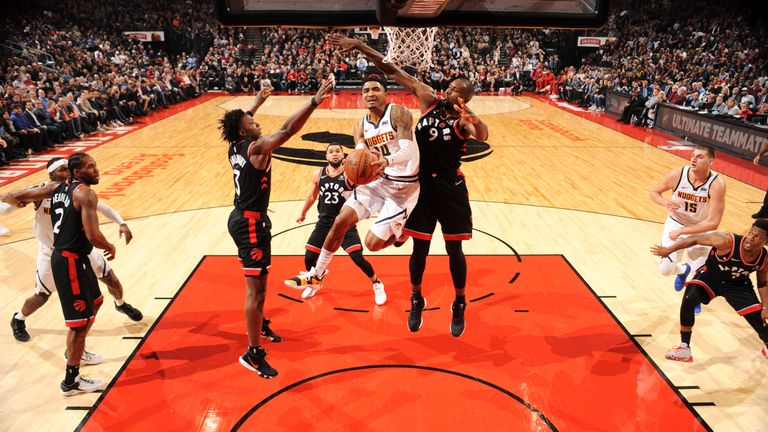 Numbers game
115.5 – That's the Raptors' offensive rating (average points per 100 possessions), the third-best figure in the league.
Toronto's roster depth means the offensive threat comes from everywhere, including their bench. Leonard is their leading scorer but on any night efficient contributions from Kyle Lowry (15.0 points per game), Serge Ibaka (16.4 PPG), Pascal Siakam (14.8 PPG), Jonas Valanciunas (12.8 PPG) and Danny Green (10.0 PPG) can win them a game.
One to watch (Sixers): JJ Redick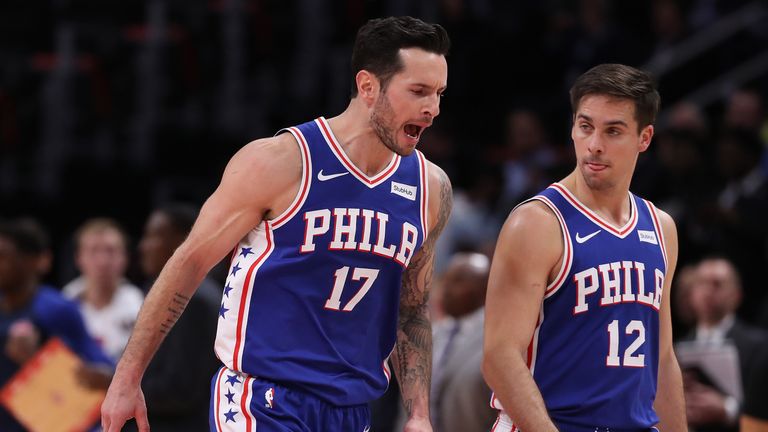 The veteran sharpshooting guard supplies game-winning firepower from beyond the arc.
Redick has previously led the league in three-point shooting percentage (47.5 per cent in 2015-16) and, while his accuracy is way short of his best this campaign, the 34-year-old is averaging a career-high 18.6 points per game in what is his 13th year in the league.
One to watch (Raptors): Pascal Siakam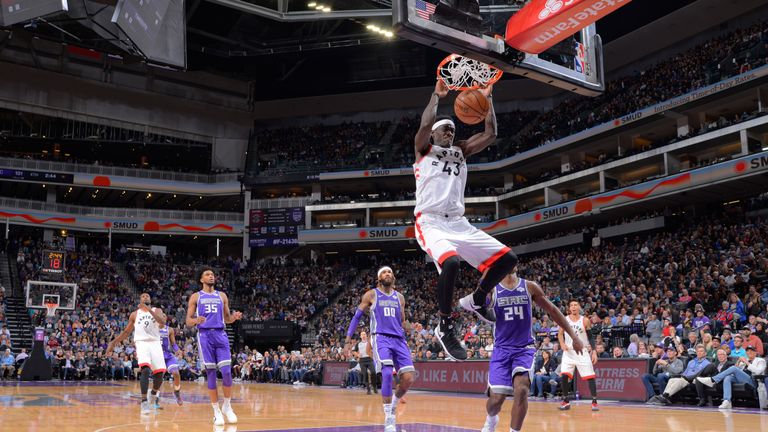 Third-year pro Siakam already has an Eastern Conference Player of the Week award to his name this season and is making the transition from promising young player to break out star.
Siakam has established himself as a starter this season and his excellent defense complements his efficient offensive output. The 24-year-old is posting career-best averages in minutes, points and rebounds and leads the league in two-point field goal percentage (71.0 per cent).
Wednesday night's games
Golden State Warriors @ Cleveland Cavaliers, 12am
Denver Nuggets @ Orlando Magic, 12am
Washington Wizards @ Atlanta Hawks, 12:30am
Oklahoma City Thunder @ Brooklyn Nets, 12:30am
Charlotte Hornets @ Minnesota Timberwolves, 1am
Philadelphia 76ers @ Toronto Raptors, 1am, live on Sky Sports Arena
Los Angeles Clippers @ Memphis Grizzlies, 1am
Detroit Pistons @ Milwaukee Bucks, 1am
Dallas Mavericks @ New Orleans Pelicans, 1am
San Antonio Spurs @ Los Angeles Lakers, 3:30am
Sky Sports is the new home of the NBA in the UK with live coverage throughout the week, including selected live games free to all Sky subscribers via Sky Sports Mix.
And www.skysports.com/nba will be your home for news, reports, video and features throughout the season while you can follow us @SkySportsNBA